No One Tell The Cops, But A Quentin Tarantino Documentary Is In The Works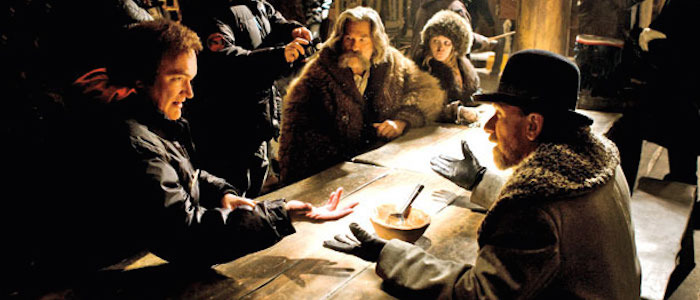 Quentin Tarantino wouldn't be Quentin Tarantino if he wasn't stirring up controversy everywhere he went. While his increasingly bizarre showdown with various police unions only provides additional free advertising for next movie, The Hateful Eight, another filmmaker is looking to take advantage of his incredible career and filmography. Production has begun on director Tara Wood's 21 Years: Quentin Tarantino, a documentary that will chart the first 21 years of Tarantino's career .
You can find the necessary details about the Quentin Tarantino documentary after the jump.
The news broke out of the American Film Market, but the details come to us via the folks at Variety. Don't expect this documentary to be some slapdash affair – this film is fully authorized and the interview subjects are a who's who of Tarantino regulars and collaborators, including Samuel L. Jackson, John Travolta, Christoph Waltz, Lucy Liu, Zoë Bell, Jennifer Jason Leigh, Jamie Foxx, Eli Roth, Robert Forster, Diane Kruger, Michael Madsen and Kerry Washington. The title of the film is inspired by the idea that every artist is defined by the first 21 years of his or her work.
Here's how Wood describes the project:
Quentin is the most revolutionary, distinctive director of our time. There is no shortage of stories from his collaborators about what it takes to get his visionary style to the screen. It has been an enlightening process both personally and professionally.
21 Years: Quentin Tarantino is Wood's second documentary charting the career of an indie filmmaker whose arrival blew the doors off the industry. She previously made 2014's 21 Years: Richard Linklater, which applied the same concept to the director of Slacker, Dazed and Confused, A Scanner Darkly, School of Rock, and Boyhood. Here's the trailer, which gives you an idea of what her Tarantino film will probably feel like:
Tarantino burst onto the scene with 1992's Reservoir Dogs, which means that the documentary will presumably cover his career up through 2012's Django Unchained. That means the film will have the chance to take a deep dive into Pulp Fiction, Jackie Brown, both Kill Bill films, and Inglourious Basterds, each of which is fascinating enough to be worthy of its own documentary.
In the meantime, Tarantino's The Hateful Eight is set to arrive on December 25, 2015 in limited release before expanding wide in January. There are multiple cuts and several different ways to see the movie. Let's be honest with ourselves here: no police boycott is going to stand in between a dedicated movie fan and that new Quentin Tarantino movie. Here's the latest trailer for The Hateful Eight, just in case you missed it: