The Final 'Jessica Jones' Trailer Is Here To Drink Whiskey And Kick Ass (And It's All Out Of Whiskey)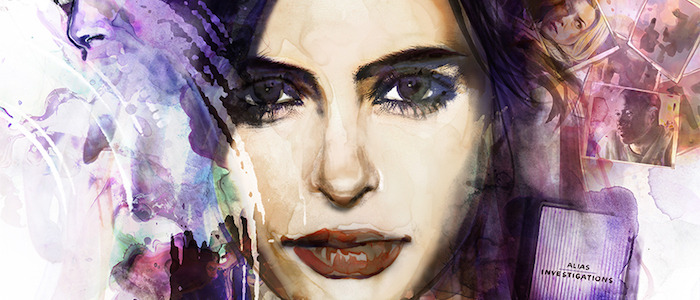 Jessica Jones could be something special. The second collaboration between Marvel Studios and Netflix, the series is a loose adaptation of Alias, the critically acclaimed comic run from writer Brian Michael Bendis and artist Michael Gaydos that followed costumed superhero Jessica Jones as she hung up her tights and opened her own private investigation business. The result remains one of the best comics of the millennium so far, and the perfect template upon which to build a television series.
The massive success of Daredevil has given Marvel and Netflix a confidence that has spilled into the marketing for Jessica Jones. Each teaser and every trailer is on point – they just have to flash the Marvel name and you know exactly what you're getting. The final Jessica Jones trailer has arrived and it's more of the same: traumatized former superhero downs booze and punches the stuffing out of bad guys while hunting her archenemy. Thankfully, that "same" still looks awfully good.
Watch the final Jessica Jones trailer after the jump.
Things to appreciate in this trailer: Krysten Ritter seemingly pulling off the tricky combination of  playing super-powerful and super-messed up; Mike Colter looking so much like Luke Cage that he might as well have stepped out of a comic book panel and onto the screen; David Tennant embracing his dark side as the sadistic "Purple Man" who ruined Jessica's life and continues to wreak havoc across Hell's Kitchen; the mere presence of Carrie-Anne Moss; the many, many shots of Ritter unapologetically using her powers to leap tall buildings in a single bound and dispatch her various enemies.
At this point, you probably know whether or not you plan to binge-watch Jessica Jones in a few bleary-eyed sessions. Some of you have already over-analyzed all of the photos, read over the spoilery episode titles and plot summaries, discussed every character poster, and repeatedly rewatched the previous trailer. The Marvel name sells itself. The faithful "Marvel Zombies" will always turn out.
So let me directly address those who are on the fence regarding Jessica Jones: give this one a chance, even if you didn't care for Daredevil or don't like superhero stories. Alias is a one-of-a-kind comic, a hilarious and sad and fascinating character study that just so happens to take place in the same world where Iron Man flies by every so often. It views the Marvel universe from the fringes and the gutter, taking the POV of someone who tried out the whole "superhero" thing and discovered that it ruined her life. If Rosenberg and her crew can capture what makes this character special, this could be compelling, complex television.
The entire 13-episode first season of Jessica Jones will drop on Netflix on November 20th, 2015. So don't make any plans that weekend.