Netflix Shells Out $50 Million For 'Okja', From 'Snowpiercer' Director Bong Joon-Ho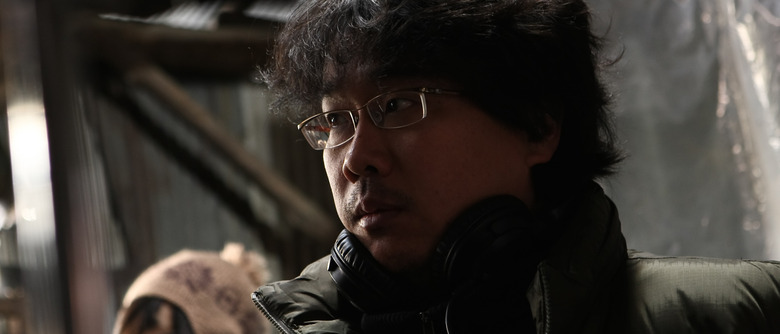 Bong Joon-ho's Snowpiercer turned out to be one of the best films of 2014, but you may recall that its path to U.S. cinemas was a rocky one. The Weinstein Co. picked it up and then tried to chop it up against the director's wishes. Bong finally emerged victorious — the cut that ultimately got released was the one he wanted — but only after lots of public disagreement and controversy.
Fortunately, Bong's next effort should have a much easier time making it to American audiences intact. Netflix has just signed on to finance Bong's Okja to the tune of $50 million. Brad Pitt's Plan B is also on board to co-produce. As we reported last month, the star-studded cast includes Jake Gyllenhaal, Tilda Swinton, and Bill Nighy. Get more details on the Netflix Okja news after the jump. 
Netflix announced the news today. It goes without saying that $50 million is a whole lot of money, but it's especially notable because at $42 million, Bong's Snowpiercer was one of the most expensive Korean movies of all time. Netflix hasn't been afraid to throw money at projects it deems worthy, though. Earlier this year, the company invested an astounding $60 million in Pitt's military satire War Machine.
Okja follows a Korean girl who befriends a kindhearted monster. (The title refers to the name of the monster.) The film splits its time between the U.S. and Korea. Gyllenhaal, Swinton, Nighy, Paul Dano, and Kelly Macdonald play supporting characters in scenes set in New York City. Casting is still underway for the lead role of the girl, who hails from the South Korean province of Gangwon-do.
Said Bong in a statement:
It really is a fantastic opportunity for me as a filmmaker. For Okja, I needed a bigger budget than I had for Snowpiercer and also complete creative freedom. Netflix offered me the two conditions that are difficult to have in hand simultaneously.
Yeah, I'll bet he's really excited about the "complete creative freedom" part. Netflix has developed a reputation for giving film and TV creators a lot of leeway — even when said artists' decisions inspire a lot of grumbling from the general public — and lately it's tried to push into artier fare with Cary Fukunaga's Beasts of No Nation. In that light, Bong's Okja seems like a great fit.
Particularly as the streaming service is looking to expand into South Korea next year. Backing a popular homegrown director seems like a savvy way for the company to endear itself to an unfamiliar market. Okja is one of Netflix's few Asian productions along with Crouching Tiger Hidden Dragon 2 and the original drama Marco Polo.
Snowpiercer was Bong's first English-language film. Okja will feature both English and Korean. Bong's films in his native language include Mother, The Host, and Memories of Murder. Shooting on Okja will begin in Korea and the U.S. in late 2016 for release in 2017.