Tina Fey's Untitled 'Taliban Shuffle' Comedy Set For 2016 Release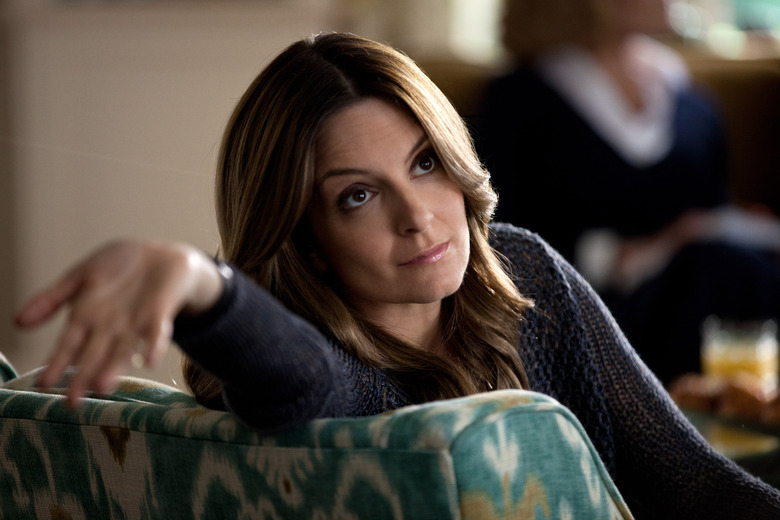 While most movies have scrambled to get the hell away from Star Wars: The Force Awakens, Tina Fey's new comedy Sisters planted a flag on December 18, 2015 last year and hasn't budged. "We said we'd only do the movie if it opened against Star Wars," joked Fey's co-star Amy Poehler. "We are going to f***ing crush Star Wars."
And while that prediction seems, uh, pretty far-fetched, Fey apparently isn't intimidated by Disney's other upcoming offerings, either. She'll face off against the studio again in March, as her upcoming Afghanistan War comedy (formerly titled Taliban Shuffle) has just staked out a release against Disney's Zootopia. 
Paramount has announced that the untitled comedy starring Fey will open on March 4, 2016, against Disney's animated adventure Zootopia, the Olympus Has Fallen sequel London Has Fallen, and (presumably in limited release) Terrence Malick's Knight of Cups.
John Requa and Glenn Ficarra (Crazy, Stupid, Love., Focus) directed Fey's new movie based on Kim Barker's memoir The Taliban Shuffle: Strange Days in Afghanistan and Pakistan. Fey plays Barker, a foreign correspondent who arrives in Kabul in 2002. Margot Robbie, Billy Bob Thornton, Martin Freeman, Josh Charles, Christopher Abbott, and Alfred Molina also star.
Here's a description of Barker's book:
Kim Barker is not your typical, impassive foreign correspondent—she is candid, self-deprecating, laugh-out-loud funny. At first an awkward newbie in Afghanistan, she grows into a wisecracking, seasoned reporter with grave concerns about our ability to win hearts and minds in the region. In The Taliban Shuffle, Barker offers an insider's account of the "forgotten war" in Afghanistan and Pakistan, chronicling the years after America's initial routing of the Taliban, when we failed to finish the job.
When Barker arrives in Kabul, foreign aid is at a record low, electricity is a pipe dream, and of the few remaining foreign troops, some aren't allowed out after dark. Meanwhile, in the vacuum left by the U.S. and NATO, the Taliban is regrouping as the Afghan and Pakistani governments floun­der. Barker watches Afghan police recruits make a travesty of practice drills and observes the disorienting turnover of diplomatic staff. She is pursued romantically by the former prime minister of Pakistan and sees adrenaline-fueled col­leagues disappear into the clutches of the Taliban. And as her love for these hapless countries grows, her hopes for their stability and security fade.
Fey has kept very busy since her TV series 30 Rock ended in 2013. She's starred in Admission, Muppets Most Wanted, and This Is Where I Leave You; she's created and produced the delightful Netflix series Unbreakable Kimmy Schmidt; she's hosted the Golden Globes three times with her BFF and former Saturday Night Live co-star Poehler.
Next month's Sisters stars Fey and Poehler as (you guessed it) sisters, who decide to throw one last rager before their parents sell their childhood home. Jason Moore (Pitch Perfect) directs from a script by Paula Pell (Saturday Night Live, 30 Rock). It probably — okay, definitely — won't do anything like Force Awakens numbers at the box office, but could be a helpful bit of counter-programming for people who aren't interested in aliens, robots, or alien robots, but are also over the age of 5 and therefore not interested in singing chipmunks.
The film formerly known as Taliban Shuffle doesn't have a trailer as of yet, but in the meantime here's a Sisters trailer to give you your daily recommended dose of Tina Fey.