You Won't Hear Robin Williams As 'Aladdin' In A Future Movie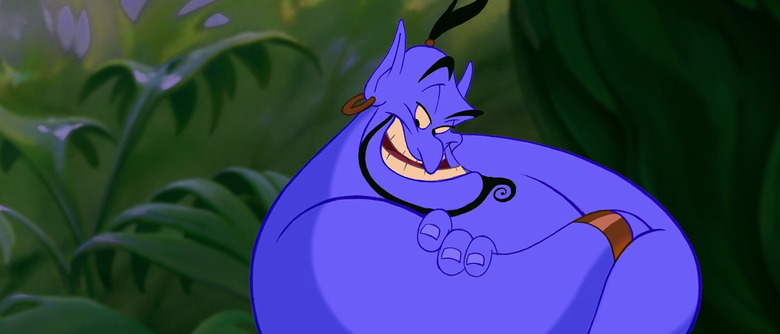 Disney is apparently determined to remake, reimagine, or retell every fairy tale in its animated feature stable, with new versions of everything from Beauty and the Beast to Winnie the Pooh in the works. But one character you won't see make a comeback is Robin Williams' Genie from 1992's Aladdin.
When Williams voiced the jolly blue giant, he recorded enough material that Disney could cobble together an entirely new performance out of the outtakes. However, Williams' will prevents the studio from doing any such thing. Read about the future of the Robin Williams Genie character after the jump. 
According to the
, Disney considered making a fourth Aladdin movie using Williams' outtakes. (The original Aladdin was followed by two direct-to-video sequels, 1994's The Return of Jafar and 1996's Aladdin and the King of Thieves.) But the studio discovered that Williams, who died last year, left behind a will preventing them from using his name, taped performances, or voice recordings for 25 years after his death.
To clarify, this doesn't prevent Disney from making more Aladdin movies in general. Indeed, plans are already underway on a
Genie-centered live-action prequel
that could set up future Aladdin films. It just means Disney can't make a new film using excess material from Williams' recording sessions as Genie.
Anyone who's heard Williams' chatterbox performance in the original Aladdin likely won't be surprised to learn that so much of Williams' work was left on the cutting room floor. "When he was on form, the hyperactive motormouth we love from 'Good Morning Vietnam' and 'Mrs. Doubtfire' was making 30 jokes a minute," said an unnamed executive. "Now, because [Williams] insisted on a final say on such material, [the jokes] will remain in the vaults."
Williams and Disney famously fell out after the first Aladdin. The comedian had signed on under the condition that his name, voice, and image not be used to sell tie-in products like toys or fast food. However, Disney went back on that promise, and Williams publicly voiced his displeasure. He sat out The Return of Jafar, where he was replaced by Dan Castellaneta, but made up with Disney in time to return for Aladdin and the King of Thieves.
Given that bitter experience, it makes sense that Williams would take pains to protect his performance even after his death. The clause is also intended to protect his widow and their three children from getting slammed with financial penalties due to his posthumous earnings. Three of Williams' films have been released after his death: A Merry Friggin' Christmas, Night at the Museum: Secret of the Tomb, and Absolutely Anything.