Pop Music Enthusiast Vin Diesel Teases More Dancing In 'Guardians Of The Galaxy 2'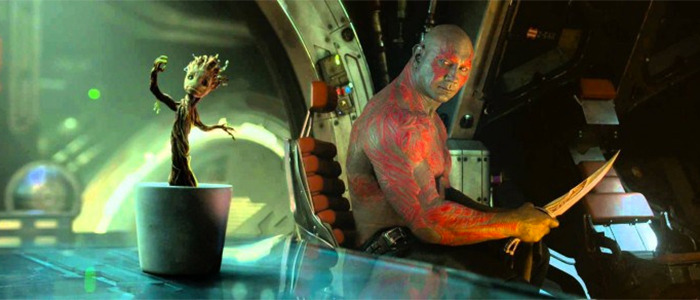 What are we to make of Vin Diesel? He's the "tough guy" star of more than one action movie, but he's a big, silly goofball on social media. He has a reputation for being a little difficult on set, but he spends all of his time between movies being nothing but gracious toward his collaborators. He's become an icon for energy drink-guzzling bros and Dungeons & Dragons-playing geeks. He's played tattooed, gravel-voiced spies and adorable talking tree aliens.
And it's that adorable talking tree alien that brings us here today. The smooth-headed enigma that is Mr. Diesel took to Facebook and shared a live video with his fans, during which he chatted about Guardians of the Galaxy Vol. 2, praised James Gunn's script for the upcoming sequel, and revealed that the new movie will once again feature more dancing than your average superhero tale.
Hit the jump for Diesel's Guardians of the Galaxy 2 story comments (as well a reminder of Diesel's wacky dancing history).
However, Diesel didn't just say "Hey, the sequel, like the first movie, contains dancing!" Oh, no. During the course of the video, Diesel (according to ComicBook.com) jammed out to Meghan Trainor's "Better When I'm Dancin'," decided that it is true that things are better when you're dancing, and then noted "It's ironic, because dancing is such a big part of this Guardians of the Galaxy script." So there you go. Like the first movie, Guardians of the Galaxy Vol. 2 will include dancing in some capacity. We're not sure if that's actually ironic or not, but who are we to put a pin in Diesel when he's obviously in a happy place?
As you surely remember, Guardians of the Galaxy featured more than one memorable dance sequence. There was Baby Groot jamming out to The Jackson 5, Star-Lord educating Gamora in the ways of Footloose, and, most importantly, a dance-off being used as a part of a plan to save an entire planet from destruction:
During his video, Diesel also revealed his CD copy of "Awesome Mix Vol. 2," which came with the screenplay. Considering how well the first film's soundtrack sold, that collection of mystery songs may very well be the big music release of 2017.
Anyway, Diesel also took time to compliment Gunn's abilities as a writer and director. As we already know, getting to say dozens of variations of "I am Groot" was somehow the best uses of Diesel in ages and Gunn has seemingly found new ways to get Diesel excited about those three words all over again:
I can see why my son is so excited about this. James Gunn is such a great writer. I read this script and I go, 'You're a great director, and you're this good a writer too.' No wonder Marvel is so excited about what you're doing. No wonder Marvel can't wait to see Guardians of the Galaxy 2. Yeah, it's one of those page turners, you cannot put the script down.
That's all the news that's fit to print, really. But while we're here, let's remember that Diesel has a long history with onscreen dancing, beginning with this breakdancing instructional video. This comes from an ancient age, a time before Vin Diesel was Vin Diesel. A time when he had hair:
And let's not forget the time Diesel recorded himself dancing to Beyonce's "Drunk in Love" and posted it online for all to see. This is either joyous or a deeply uncomfortable look into how this man spends his free time. You be the judge:
Guardians of the Galaxy Vol. 2 opens on May 5, 2017. It will make a bajillion dollars. We can't help but wish this outtake from the first movie was canon: