Cool Stuff: 'Home Alone' Is Now A Charming, Illustrated Children's Book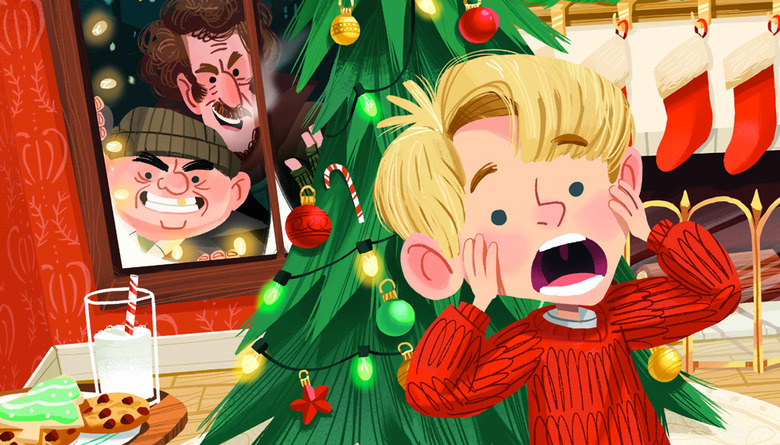 We may receive a commission on purchases made from links.
If you want to see Home Alone in theaters this weekend, today is the first day you can head to select theaters for the Fathom Event 25th anniversary re-release of the holiday comedy. You'll also have another chance on Wednesday, November 11th, and you can find out the times and participating theaters right here.
But if you don't feel like Home Alone warrants a return to theaters, or you just want to experience the John Hughes written story from the comforts of your home in a new way, you might want to pick up the new Home Alone book which turns the movie into a wonderfully illustrated Christmas tale. If you want to see what it looks like before making any decisions, we have a trailer for the book and images of some of the pages for you to check out.
Here's the trailer for Home Alone: The Classic Illustrated Storybook from EW:
And here's some images of the wonderful illustrations inside the book:
The 40-page adaptation of the movie is intended for ages 4-8, so this might be a good way to introduce your kids to Home Alone if they're not quite prepared to sit down for the actual movie just yet. The spectacular illustrations are done by Kim Smith, and they remind me of the illustrations in Josh Cooley's children's book take on R-rated movies, Movies R Fun (which you can also buy right now).
Some families like to read The Night Before Christmas every year around the holidays, but with this new children's book adaptation of Home Alone, a new tradition might be in order. If you want to pick up a copy of Home Alone: The Classic Illustrated Storybook, it's available right here for a little over $11 on Amazon.
Home Alone arrived in theaters 25 years ago, and it remains the #1 highest-grossing live-action comedy film of all time. Now, illustrator Kim Smith has reimagined the story as a classic Christmas fable—complete with bumbling burglars, brilliant booby-traps, and a little boy named Kevin who's forced to fend for himself. Through a series of comic adventures, Kevin learns lessons about responsibility and the importance of family. With an amusing read-aloud story and enchanting, immersive illustrations, this charming adaptation can be enjoyed year after year alongside The Polar Express, How the Grinch Stole Christmas, and other Christmas storybook classics.