'Alice Through The Looking Glass' Posters: Melting Clocks And Glowing Orbs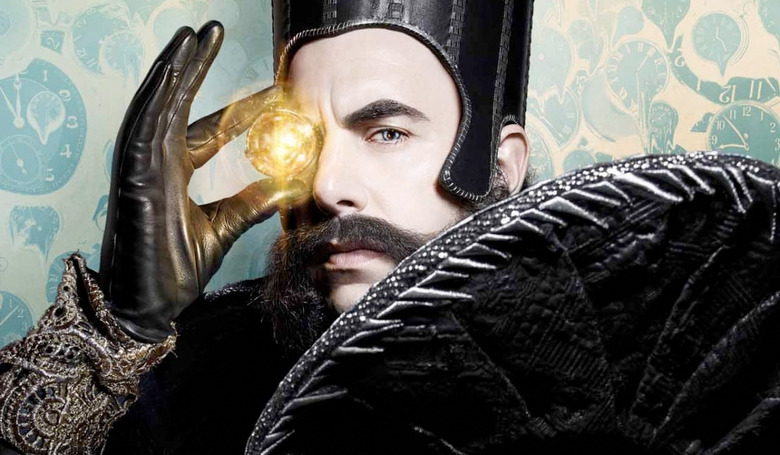 Just last week, the first teaser trailer for Alice Through the Looking Glass arrived, the sequel to Tim Burton's 2010 adaptation of Alice in Wonderland. It's quite an early tease for the film that won't arrive until next summer, and now a batch of posters featuring some of the prominent Wonderland characters and one new face have surfaced.
Mia Wasikowska, Johnny Depp, Anne Hathaway and Helena Bonham Carter all get their own posters, reprising their characters from the first film. In addition, Sacha Baron Cohen, who plays a part-human, part-clock manifestation of Time gets his own poster as well, with all of the character surrounded by trippy, melting clocks.
Here's the new Alice Through the Looking Glass posters from Birth.Movies.Death:
What's interesting about these posters is each of the characters is holding the same glowing gold orb, looking almost like a Golden Snitch from Harry Potter. However, whatever this item is, it isn't spotted in the teaser trailer anywhere. So what could it be? My best guess is that it's the MacGuffin that must be recovered in order to turn back time. That's what Alan Rickman's voiceover as the blue caterpillar Absolem says Alice must do, and this device must be the key to achieving that if all the characters are featured with it.
Otherwise, Alice Through the Looking Glass is supposed to shine a light on the origins of The Mad Hatter, including telling us why he's so mad. Rhys Ifans is playing his father Zanik Hightopp, and it's likely that he's an integral part of the story for the sequel, perhaps even being the cause of this time debacle. If you haven't seen the trailer yet, you can watch it right here.
In Disney's "Alice Through the Looking Glass," an all-new spectacular adventure featuring the unforgettable characters from Lewis Carroll's beloved stories, Alice returns to the whimsical world of Underland and travels back in time to save the Mad Hatter. Directed by James Bobin, who brings his own unique vision to the spectacular world Tim Burton created on screen in 2010 with "Alice in Wonderland," the film is written by Linda Woolverton based on characters created by Lewis Carroll and produced by Joe Roth, Suzanne Todd and Jennifer Todd and Tim Burton with John G. Scotti serving as executive producer. "Alice Through the Looking Glass" reunites the all-star cast from the worldwide blockbuster phenomenon, including: Johnny Depp, Anne Hathaway, Mia Wasikowska and Helena Bonham Carter along with the voices of Alan Rickman, Stephen Fry, Michael Sheen and Timothy Spall. We are also introduced to several new characters: Zanik Hightopp (Rhys Ifans), the Mad Hatter's father and Time himself (Sacha Baron Cohen), a peculiar creature who is part human, part clock.
Alice Through the Looking Glass arrives in theaters May 27, 2016.