Star Wars Bits: Hyperspace Mountain, Force Unleashed 3, Battle Of Yavin On Apple TV, More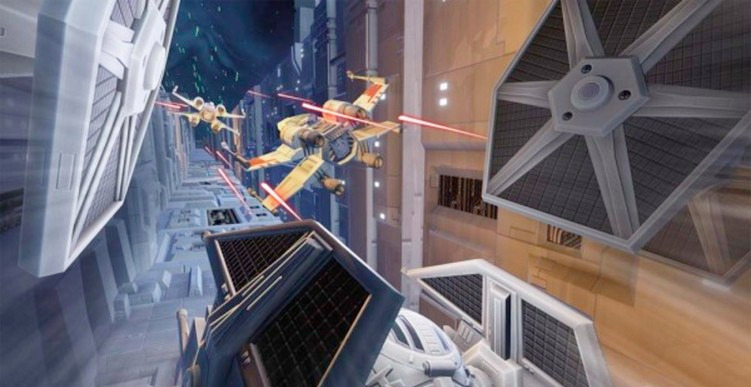 Twisted by the Dark Side, young Skywalker has become. The boy you trained, gone he is... Consumed by Star Wars Bits. This edition of news from a galaxy far, far away includes:
A glimpse at Space Mountain's Star Wars makeover at Disneyland
New interactive Star Wars event planned for Walt Disney Resort
Preview of Disney Infinity 3.0 on Apple TV featuring the Battle of Yavin
The interactive Star Wars playroom on Disney Cruise Lines
How to make Star Wars: The Force Awakens paper snowflakes
Sideshow Collectibles new Darth Maul figure
Footage from abandoned Star Wars: First Assault video game
A quick tour of the planets in Star Wars Battlefront
What fans would have gotten in abandoned The Force Unleashed 3
A Star Wars version of the Action Movie FX app is available
New sign for Hyper Space Mountain #Disneyland #SeasonOfTheForce #StarWars pic.twitter.com/dcSTeiQwBz

— Octavius (@MintCrocodile) November 6, 2015
A fan noticed this makeover give to the roller coaster Space Mountain at Disneyland for the upcoming Season of the Force celebration. It's just one of the many Star Wars centric happenings that will be happening at the theme park beginning on November 16th.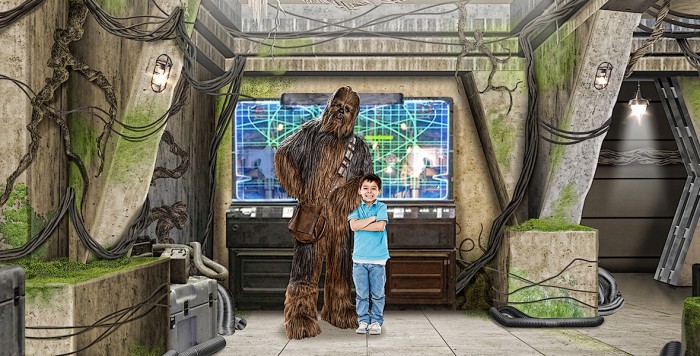 Speaking of theme park fun, the Walt Disney Resort seems to be putting together a new interactive Star Wars event as Disney Parks and Talent Casting is seeking Interactive Actors with knowledge of all things Star Wars for an upcoming new event. It doesn't appear to have anything to do with Star Wars Land since the opening of that expansion is so far away, so this must be something more immediate, but details are sparse at this point. Get more information on how to audition here. [Inside the Magic]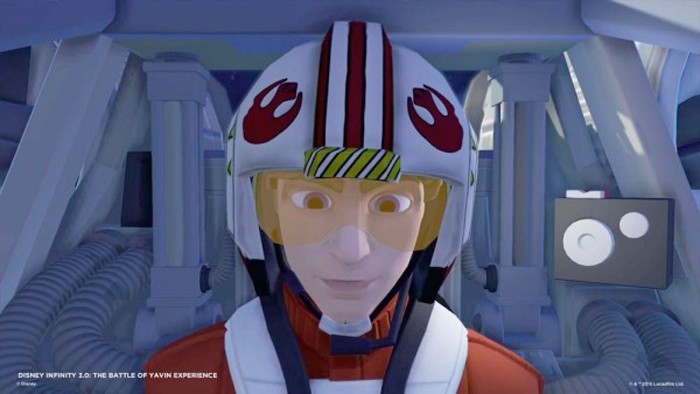 If you want to see what Disney Infinity 3.0 is like with the Star Wars expansion packs, you can now try it out. The Battle of Yavin Experience can be downloaded to the new Apple TV, allowing you to play through the iconic space battle from the first Star Wars. However, it's not as seamless as it might be on a console since it's on the Apple TV. But if you want to know more about the demo, check out this review over at AppAdvice.
If you're going on a Disney Cruise Line sometime soon, get a behind the scenes look at the interactive Star Wars playroom that you'll be able to try out while gliding across the ocean. That Millennium Falcon cockpit is something I want at my house immediately. [InsideTheMagic]
Want to decorate your house with some incredible Star Wars: The Force Awakens snowflakes that you can make yourself? Graphic designer Anthony Herrera has released a guide on how to make your own paper snowflakes commemorating The Force Awakens characters like Finn, Rey, BB-8, Kylo Ren and Poe Dameron. Get the templates over at GeeksAreSexy now.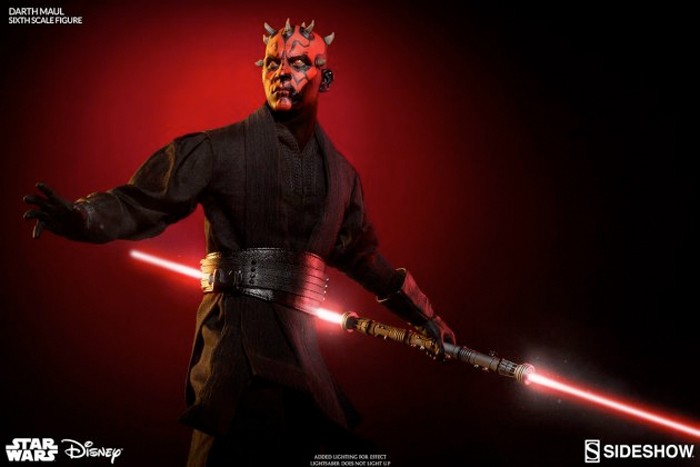 Sideshow Collectibles has a new Darth Maul figure modeled after his appearance in the Battle of Naboo where he faces off against Qui-Gon Jinn and Obi-Wan Kenobi. The figure is available for pre-order right now. Sadly it doesn't look like he comes apart at the torso.
Above you can watch nearly 20 minutes of footage from the canceled video game Star Wars: First Assault. The LucasArts game would have been a downloadable game for Xbox 360 and PlayStation 3 in 2013, meant to pave the way for the launch of what would have been Star Wars Battlefront 3 (a game that's much different from the Star Wars Battlefront we're getting this month). It's a first-person shooter following a battle between rebels and Stormtroopers, and it's basically a Call of Duty Star Wars game. After looking at the footage, it's probably for the best that this didn't make it to consoles. [EuroGamer]
Take a quick tour of the sprawling Star Wars landscapes that you'll get to fight on when Star Wars Battlefront hits shelves later this month. From Tatooine to Endor and more, these are some gorgeous renderings of Star Wars planets.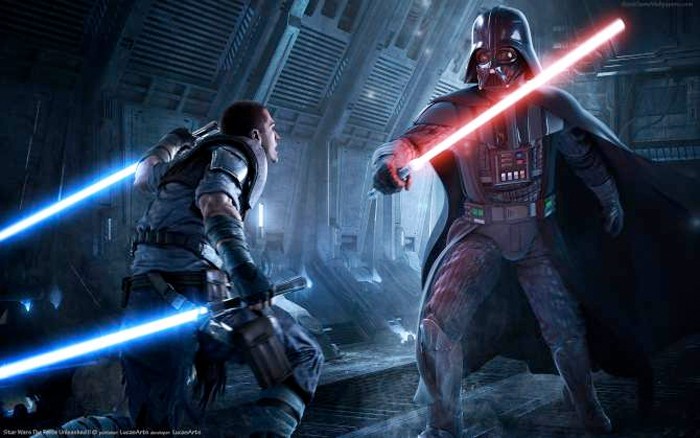 Sadly, it looks like we'll never get to see The Force Unleashed 3, another sequel in the Star Wars video game franchise. However, now we can imagine what it would have been like to play as LucastArts Creative Director Haden Blackman recently sat down with Cinelinx and gave some tidbits about what his plans for the game would have entailed:
"My long-term plan was to turn the franchise into more of an open world experience, and eventually introduce co-op play — I wanted to make games about two Force wielders adventuring through the Star Wars universe together. I tried to keep that alive for an early treatment of TFU3."
But what about Darth Vader and Starkiller? Blackman says:
"I think the details are best lost to time now, but my hope was that we'd have Vader and Starkiller reluctantly working together to stop one of the Emperor's plots that threatens to replace Vader."
It's a shame we'll never get to play that game.
If you've got a smart phone, you might want to download a Star Wars variant of Bad Robot's Action Movie FX app that will allow you to insert certain video effects featuring Star Wars characters and vehicles into videos shot on your phone. BB-8 is prominently featured as well as AT-AT Walkers, TIE Fighter wreckage, the Millennium Falcon and more. Check it out!
That's all for this edition of Star Wars Bits. Stay tuned for more soon.