Chloë Grace Moretz Dives Into Live-Action 'Little Mermaid' Retelling; Richard Curtis To Script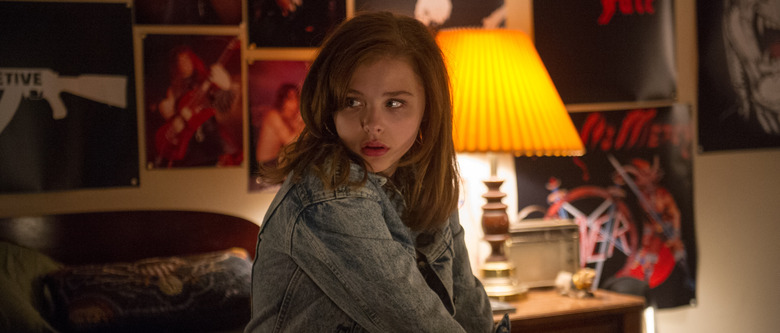 Disney may have found the most success with live-action fairy tales so far, but it's certainly not the only studio that's trying. Universal and Working Title are moving forward on a new adaptation of The Little Mermaid that formerly had Sofia Coppola attached. Chloë Grace Moretz has been set to star, while Richard Curtis (Love, Actually) will write the script. 
Variety broke the news, but don't have much info yet on what exactly this latest incarnation of the Hans Christian Anderson story will be like. The project has yet to find a new director after Coppola's departure earlier this year. Working Title's Tim Bevan and Eric Fellner will produce, and Liza Chastin and Amelia Granger will executive produce.
Coppola's exit was blamed on "creative differences" — specifically, her and the companies' inability to agree on a lead. The director wanted Maya Thurman-Hawke (who, as you've probably guessed by her last name, is the daughter of Uma Thurman and Ethan Hawke), while the studios wanted a bigger name to attract more audiences. According to the latest report, Moretz was always their top pick.
Moretz was last seen in the Gillian Flynn adaptation Dark Places and Olivier Assayas' Clouds of Sils Maria. Next year she'll star in the would-be franchise starter The 5th Wave, and Universal's comedy sequel Neighbors 2: Sorority Rising. She seems to do better with meaner or tougher characters (like Kick-Ass' Hit-Girl or even 30 Rock's Kaylie Hooper) than more softer or more delicate ones (like she played in Carrie and If I Stay), so hopefully The Little Mermaid will make the best use of her talents.
Curtis last helmed the time-traveling tearjerker In Time, but has said he probably won't direct again. He's probably best known for his work with romcoms, having written Four Weddings and a Funeral, Notting Hill, and Bridget Jones's Diary. More recently, he wrote Stephen Daldry's Trash.
Disney's 1989 animated movie is probably the most famous big-screen adaptation of The Little Mermaid, but like all classic fairy tales it's in the public domain. Which is why this isn't the only Little Mermaid project we've heard about over the past few years. There was one Kelly Marcel was writing one for Joe Wright, and a retelling at Sony based on the book by Carolyn Turgeon. Surprisingly, Disney — which is in the middle of a mad dash to live-action-remake every other animated movie in its stable – has not yet announced plans for a new Little Mermaid.