Showtime's 'Twin Peaks' Revival Drags Miguel Ferrer Back Into Town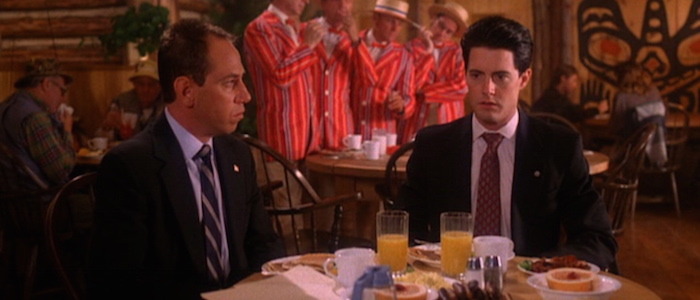 We've reached the point where things you used to love back in the day getting a big second chance have become commonplace. Oh, a Star Wars movie that seems to evoke the original trilogy? That's nice. Six new hours of The X-Files? That's good. Nothing is ever dead anymore – it's just taking a little nap before it's roused from its slumber, given a new coat of paint, and asked to win over the fans and attract new admirers. With all of that said: holy crap, Showtime is releasing a new season of Twin Peaks and David Lynch is directing it and everything! How'd that happen?
Anyway, the latest news to emerge from the ultra-secretive Twin Peaks camp is that Miguel Ferrer, who played FBI Agent Albert Rosenfeld in the original series, is set to return for the new batch of a episodes.
For more on the Twin Peaks Miguel Ferrer casting, hit the jump.
Although still unconfirmed by official sources, the news of Ferrer's return comes to us in a report from Deadline. The same article also says that David Patrick Kelly and Richard Beymer are set to return as Jerry and Benjamin Horne. Ferrer, Kelly, and Beymer are only a few of the of many original cast members who are rumored to be returning to small, deeply weird Washington town of Twin Peaks, but so far only Kyle MacLachlan (a.k.a. Special Agent Dale Cooper) has been outright confirmed.
Ferrer is currently a cast member on NCIS: Los Angeles, but you surely know him from countless other movies and shows. He's one of those omnipresent character actors – even if you don't immediately recognize his name, you're happy to see him. We're talking about a guy whose credits include RoboCop, Iron Man 3, Adventure Time, Crossing Jordan, Traffic, and DeepStar Six. He's been everywhere, man.
The exact nature of the Twin Peaks revival remains deeply under wraps, especially since it was recently revealed that the new episodes won't actually air until 2017. Even the new cast members have been kept as secret as possible. Various reports have suggested that Jennifer Jason Leigh and Naomi Watts have joined the cast. A mysterious teaser arrived alongside the news that Peter Sarsgaard was attached in some way. There's also Robert Knepper. Oh, and we can't forget Amanda Seyfried and Balthazar Getty, both of whom have also been supposedly, apparently, probably cast as, well, something.
It's only appropriate that a show as mysterious and odd as Twin Peaks has decided to lurk in the shadows and play its cards close to its vest. David Lynch, along with series co-creator and co-writer Mark Frost, are going to keep us guessing as long as possible.
Twin Peaks' new season will premiere sometime in 2017. It will consist of a number of unspecified episodes. We will be watching.