Idris Elba's 'Luther' Will Return As A Three-Hour TV Movie In December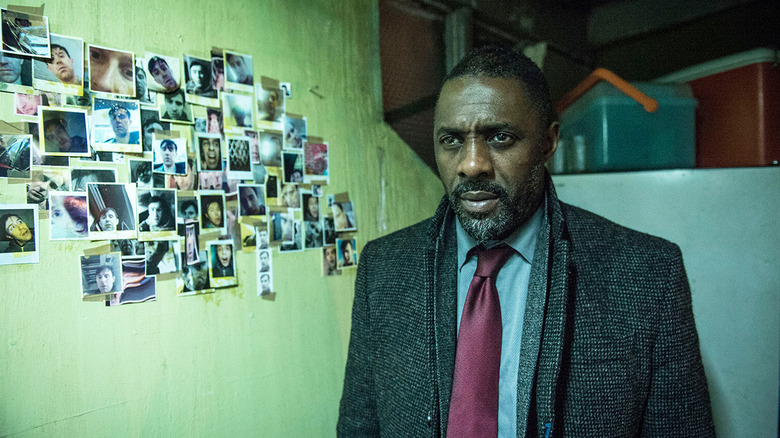 This winter is going to be a great one for fans of prickly British detectives. Not only is Sherlock unveiling a Victorian-era standalone on New Year's Day, Idris Elba's Luther will be back next month for a one-night special. Get more details on the Luther special, and take a peek at some brand-new photos, after the jump. 
BBC America announced the big news on Twitter. The Luther special will air Thursday, December 17 at 9 PM and run three hours long.
ANNOUNCING: #LUTHER is back on BBC America for a ONE-NIGHT EVENT, Dec 17, as @idriselba returns to his iconic role. pic.twitter.com/Xw53SBrgDy

— BBC America (@BBCAMERICA) November 5, 2015
Luther premiered in 2010 to loads of acclaim in both the U.K. and the U.S., and aired three seasons through 2013. It was confirmed last year that Elba would return for Season 4, and shooting took place earlier this year. But now, instead of being presented as a season, it's coming to us as a TV movie. Think of it as BBC America just giving you permission to binge-watch the whole thing, like you probably wanted to do anyway. According to The Independent, it is still unclear whether the new Luther will air episode-by-episode or as a single TV movie in the U.K.
Here's the synopsis for the Luther special:
This time we find Luther on a leave of absence from the police force, laying low in a rundown cottage. A visit from colleagues, Detective Chief Inspector Theo Bloom (Darren Boyd, Veep, The World's End) and Detective Sergeant Emma Lane (Rose Leslie, The Last Witch Hunter, Game of Thrones) brings a shocking piece of news that draws him back to London in search of the truth. At the same time, a gruesome cannibalistic serial killer has struck the city, eating body parts as he goes. With a trail of clues leading from one crime scene to the next, Detective Superintendent Unit Martin Schenk (Dermot Crowley, Babel, Bleak House) and his team must work out the twisted logic that connects each victim. But this murdering mastermind is more than a match for Schenk's police, outsmarting them at every step. It's not long before Luther makes his triumphant return to the Bullpen, determined to capture the killer before another mutilated body joins the mounting pile. But he's dogged at every turn by ghosts from his past. Isolated and volatile, it will take every fiber of Luther's being to keep it together.