'Point Break' To Open Three Weeks Early In China: A Sign Of Things To Come?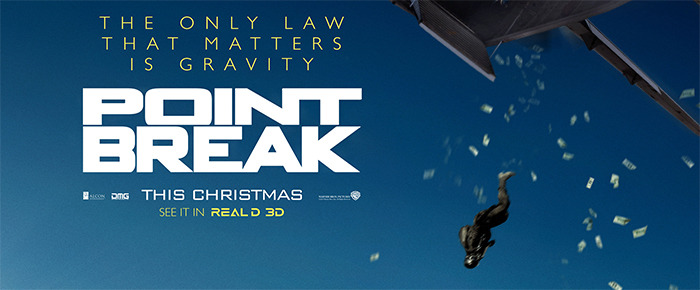 While the rest of the world gets transported to a galaxy far, far away next month, China will still be sitting there wondering what the hell Luke's been up to for the past 30 years, as Star Wars: The Force Awakens won't open there until January or later. But as a small consolation, they'll be the very first to watch another big Hollywood action movie.
The Point Break remake is set to open in China December 3, three weeks before it hits the U.S. on December 25. Which doesn't sound like a big deal, but it speaks to China's continuing influence on Hollywood studios. More about the complicated forces behind the early Point Break China release after the jump. 
As we've previously mentioned, China has strict rules about which foreign movies can play in the country and when. The regulations are meant to protect China's homegrown entertainment industry, and it means some American films — even really major ones — never open in the country. Ericson Core's Point Break remake will be the last Hollywood movie to debut there this year, as most of December is a "blackout" period for foreign releases.
Point Break is not the first Hollywood film to open in China before moving on to the U.S. Iron Man 3 arrived two days early in China, and Penguins of Madagascar opened 12 days early. However, as Deadline notes, the three-week gap between Point Break's Chinese and American releases is the biggest we've seen yet. Point Break is co-produced by DMG Entertainment, a Chinese company that also worked on Iron Man 3 and Looper.
With a population of 1.3 billion, China can be a make-or-break market for big-budget features. It's the reason Legendary and Universal even considered making a Pacific Rim sequel, for example. Consequently, Hollywood has been bending over backwards to attract Chinese moviegoers by casting Chinese stars (Iron Man 3), using Chinese settings (Looper), shilling Chinese products (Transformers: Age of Extinction), avoiding Chinese villains (the Red Dawn remake) and putting together special cuts for Chinese audiences (Skyfall).
Opening Point Break early in China may well turn out to be a savvy move. In the U.S., its December 25 due date puts it at risk of drowning under a Force-powered tidal wave. But in China, it'll have no such competition. If Point Break sweeps up there, it could make back a good chunk of its budget before it even reaches our shores. Especially if the Chinese release date leads to Point Break getting bumped up in other Asian markets as well. The U.S. box office would just be the icing on the cake.
And if Point Break's gamble pays off, it should be interesting to see if other productions follow suit. Could other Hollywood studios start aiming to open movies in China first? Could China start demanding that they get certain films earlier than other markets? Over the last several years, we've watched as international markets went from being an afterthought to being a baked-in part of a studio's financial and creative strategy. Indeed, some analysts are predicting that the Chinese box office will overtake the U.S. one by 2020. Hollywood may still be located in the U.S., but the U.S. won't be the center of it anymore.
Point Break stars Luke Bracey as the new Johnny Utah (Keanu Reeves in the original) and Édgar Ramirez as the new Bodhi (Patrick Swayze in the original). Ray Winstone replaces Gary Busey as Angelo Pappas, and Teresa Palmer is the new female lead. Whereas the 1991 movie was set among a community of surfers, the new movie takes place in the world of extreme sports.