Woody Harrelson Joins Brie Larson In 'The Glass Castle', From 'Short Term 12' Director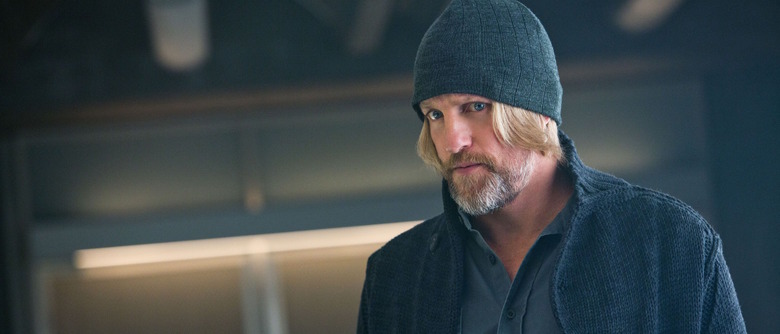 Woody Harrelson's four-film run as Haymitch comes to an end with The Hunger Games: Mockingjay – Part 2 this month, but his days of hanging around with resourceful young women in hardscrabble situations are not over. Harrelson is reportedly looking to join Brie Larson in The Glass Castle, the next feature from Short Term 12 helmer Destin Daniel Cretton.
Having read the memoir by Jeannette Walls on which the film is based, I've gotta say — if he's playing the character I think he is, this is note-perfect casting. More about the Woody Harrelson Glass Castle casting after the jump. 
Deadline reports that Harrelson is currently in talks for the project, but that neither he nor Larson have finalized their deals. Walls' book follows her unconventional upbringing in a deeply dysfunctional family. Though the Wallses' lives are full of imagination and adventure, her eccentric parents are ill-equipped to provide financial or emotional stability, and they wander from town to town as their money and luck run out.
The trade doesn't explicitly say which character Harrelson plans to play, but the obvious guess is that he's playing Jeannette's father. Rex Walls is an intelligent charmer with big ideas, but he's also a troubled and flaky alcoholic. Harrelson suits the character to a T. The only other actor I can think of who'd fit just as well is Matthew McConaughey, and in fact it turns out he was previously courted for the role that Harrelson is now stepping into.
Similarly, Larson seems like an excellent choice for a part originally earmarked for Jennifer Lawrence. The Hunger Games actress originally signed on to play Walls in 2012, but eventually dropped out when the project struggled to find a male lead. Which is kind of funny, if you think about it — in another world, The Glass Castle could've been a Hunger Games reunion for Lawrence and Harrelson.
Larson is currently blowing up thanks to Room, which looks likely to earn her a Best Actress Oscar nomination, but her abilities won't come as a surprise to anyone who caught her earlier breakthrough performance in Cretton's Short Term 12. Given how gracefully they handled tough, emotional material in that movie, The Glass Castle should be right in their wheelhouse.
Harrelson's post-Hunger Games release calendar is packed. He was recently cast in War for the Planet of the Apes as the human villain, and he's already finished shooting Now You See Me 2, Triple 9, and Wilson. He's now shooting LBJ, in which he plays the 36th President of the United States.