'London Has Fallen' Trailer: Gerard Butler Does His Best John McClane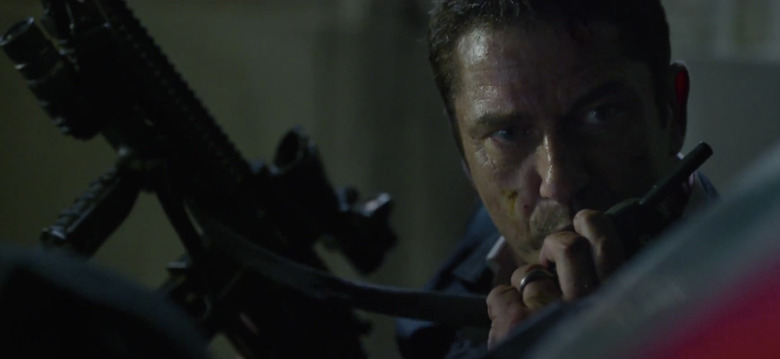 After saving the president (Aaron Eckhart) from a terrorist infiltration of the White House in Olympus Has Fallen, once-disgraced Presidential guard member Mike Banning (Gerard Butler) is now protecting the world leader at every turn as the new head of the Secret Service. But even he may have his work cut out for him when terrorists strike again across the pond.
London Has Fallen sees Butler doing his best John McClane as he is forced to go on the run in foggy London Town to keep the president safe from wave after wave of terrorists who want nothing more than to get their hands on America's Commander in Chief. But our friends in the U.K. are certainly taking a beating as well. Watch the first London Has Fallen trailer after the jump.
Here's the first trailer for London Has Fallen from Fandango:
This time Butler is joined by MI-6 agent (Charlotte Riley) while the president's staff back in the United States, including his vice president (played by Morgan Freeman), try to figure out how to reduce the number of international casualties without giving up the president. We don't negotiate with terrorists and all that jazz.
Honestly, Olympus Has Fallen was better than it could have been, and it seems that, as a franchise, this is much better than the continuance of the tired Die Hard series that the action is emulating. At the very least, London Has Fallen already looks like a better idea than the developing Die Hard prequel that was recently announced.
London Has Fallen is directed by Babak Najafi, who was at the helm of the Swedish action sequel Snabba Cash 2 (or Easy Money 2 in the U.S.), with a script by Creighton Rothenberger, Katrin Benedikt, Christian Gudegast, and Chad St. John. The rest of the cast includes Alon Moni Aboutboul, Angela Bassett, Robert Forster, Jackie Earle Haley, Melissa Leo and Radha Mitchell.
After the British Prime Minister passes away, his funeral becomes a target of a terrorist organization to destroy some of the world's most powerful leaders, devastate the British capital, and unleash a terrifying vision of the future. The only hope of stopping it rests on the shoulders of the President of the United States (Aaron Eckhart) and his formidable Secret Service head (Gerard Butler), and an English MI-6 agent (Charlotte Riley) who rightly trusts no one. Morgan Freeman also stars as the Vice President of the United States.
London Has Fallen arrives on March 4th, 2016.