New 'The Hateful Eight' Trailer: Spend The Holidays With Someone You Hate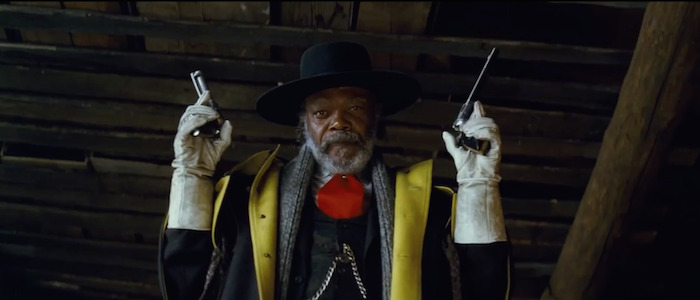 Look, we know you're very excited for Star Wars, but if we were able to see one December 2015 release right here, right now, if would be Quentin Tarantino's The Hateful Eight. After the one-two punch of Inglourious Basterds and Django Unchained, Tarantino has only confirmed his status as one of the most unique and exciting filmmakers working today. Each of his movies is an experience.
The new trailer for The Hateful Eight only heightens our anticipation for this "drawing room mystery" western, which places eight violent people in one tiny room and watches them all turn on one another. This movie may take place almost entirely in one location, but as this preview shows us, there will be no shortage of gunplay.
You can watch the Hateful Eight trailer for yourself right after the
Unlike the first preview, which was little more than a teaser, this trailer gives a proper introduction to every character, and then starts to hint at the absolute carnage to come. What, did you expect Tarantino to strand eight violent strangers in the middle of a raging blizzard and not have them pull guns on one another?
Considering the critical and financial success of his past few films, it's going to take a lot more than a police boycott to slow down The Hateful Eight. This is one helluva trailer. Hell, any trailer that is built almost entirely around Samuel L. Jackson monologuing and waving pistols is a trailer worth watching on repeat. Everything about the marketing for The Hateful Eight has oozed confidence.
Tarantino's films have the unique ability to please the snobbiest cineastes and the regular popcorn-munchers alike. They're grand entertainment, magnificently structured and assembled. Stepping away from the modern gangster movies has given him a second wind he didn't even need. If he spends the rest of his career making darkly funny period pieces about race and revenge, cinema will be all the better for it.
Here's the official plot synopsis for The Hateful Eight:
In THE HATEFUL EIGHT, set six or eight or twelve years after the Civil War, a stagecoach hurtles through the wintry Wyoming landscape. The passengers, bounty hunter John Ruth (Russell) and his fugitive Daisy Domergue (Leigh), race towards the town of Red Rock where Ruth, known in these parts as "The Hangman," will bring Domergue to justice. Along the road, they encounter two strangers: Major Marquis Warren (Jackson), a black former union soldier turned infamous bounty hunter, and Chris Mannix (Goggins), a southern renegade who claims to be the town's new Sheriff. Losing their lead on the blizzard, Ruth, Domergue, Warren and Mannix seek refuge at Minnie's Haberdashery, a stagecoach stopover on a mountain pass. When they arrive at Minnie's, they are greeted not by the proprietor but by four unfamiliar faces. Bob (Bichir), who's taking care of Minnie's while she's visiting her mother, is holed up with Oswaldo Mobray (Roth), the hangman of Red Rock, cow-puncher Joe Gage (Madsen), and Confederate General Sanford Smithers (Dern). As the storm overtakes the mountainside stopover, our eight travelers come to learn they may not make it to Red Rock after all...
The Hateful Eight opens in select theaters on December 25, 2015 before expanding wide on January 8, 2016. If you're lucky, you might be able to check out an extended version projected in 70mm. So check your local theaters now – that may be worth a drive.