'Jurassic World' Will Be A Trilogy Now Because Universal Spares No Expense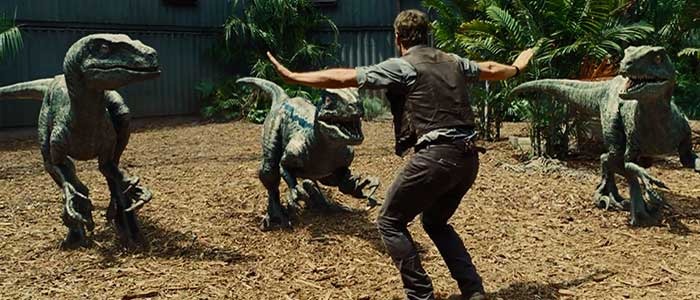 Jurassic World made $1.6 billion at the box office this summer, making it the third highest-grossing movie of all time. It was a perfect storm: a beloved film franchise back from the dead, a break from typical summer movie fare (i.e., superheroes), and, most importantly, dinosaurs. People love their dinosaurs. Especially when they're chasing after those delicious, screaming, far-too-slow humans.
So nobody blinked when Universal announced a sequel with a release date of June 22, 2018. But a sequel isn't cool. Do you know what's cool? A trilogy. Because that's apparently happening now.
Look, this could be the place where we throw our hands in the air and say "Why can't studios and directors take these things one step at a time and worry about making a single good movie before they plan those DVD box set-friendly trilogies?" but there's no point to that, really. We live in an era where movie studios have plotted release dates through 2020 and beyond. We know who's directing Star Wars Episode IX before Star Wars Episode VIII has even started principal photography. The ideal scenario is that filmmakers who are passionate and talented can breathe life into business plans. You know, look on the bright side of life and so on.
It helps that the whole Jurassic World trilogy idea seems to stem from director and co-writer Colin Trevorrow himself. In fact, Universal Pictures chairman Donna Langley (speaking from a roundtable conducted by The Hollywood Reporter) claims that she had no idea the filmmakers behind the year's biggest hit had trilogy ambitions until after the fact:
There's no reason why we should [have trouble]. [Director] Colin Trevorrow is busy working on an outline. He's been working with Steven [Spielberg]. And they have an idea for the next two movies actually. It was designed as a trilogy, unbeknown to us. It's a happy surprise.
The news that Trevorrow is working directly with Steven Spielberg, who executive produced Jurassic World, is nice news. We don't want to say good news quite yet, because while Spielberg is a international treasure, a certified genius, and a brilliant, untouchably great filmmaker, he also allowed his name to be put on more than one Transformers movie.
So that brings us to the question of the moment: what do we expect from a Jurassic World trilogy? We know Trevorrow won't be sitting in the director's chair himself – he'll be too busy working on Star Wars Episode IX (which brings everything full circle). We know that Universal is currently on the hunt for a new filmmaker to take the reins of their newly rejuvenated golden goose. We know that Trevorrow has promised that his screenplay will take the action away from island theme parks and into the realm of speculative science fiction:
It's almost like InGen is Mac, but what if PC gets their hands on it? What if there are 15 different entities around the world who can make a dinosaur?' And Dr Wu says in the film, when he's warning Dr Masrani, 'We're not always going to be the only ones who can make a dinosaur.' I think that's an interesting idea that even if we don't explore fully in this film, there is room for this universe to expand. I shouldn't use the word universe, because people will think we're making a Jurassic World universe – we're not.
Oh, yeah: and no more high heels.
So this is where we'll turn the floor over to you. Who do you want to see direct Jurassic World 2? What do you want out of the sequel? Are the debates over the movie's treatment of its female characters spot-on or overblown? We have three years until the next movie gives us something new to talk about, so start chatting. It's going to be awhile.