New 'Star Wars: Battlefront' Teaser Gives A Taste Of The Battle Of Jakku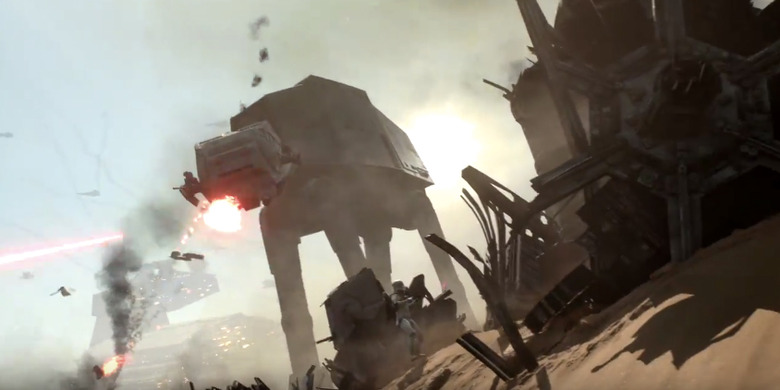 Aside from the ability to live out some of the most iconic battles from the Star Wars saga, the forthcoming video game Star Wars Battlefront brings with it a taste of a fight that fans haven't experienced before and know very little about: The Battle of Jakku.
We've known for months that this fight on a new planet would be a key playable part of the new video game as downloadable content from Electronic Arts. But we're just now getting a real taste of what the battle will entail in a new Star Wars Battlefront trailer focusing specifically on the Battle of Jakku.
Here's the Star Wars Battlefront Battle of Jakku teaser from EA:
As the teaser says, the Battle of Jakku happens 29 years before the events of Star Wars: The Force Awakens, which means that this only happens about a year or so after Return of the Jedi. Along with the novel Star Wars: Aftermath, this is one of those key storylines that will show that the Empire didn't just die off and disappear after the second Death Star was destroyed. Remnants around the galaxy survived and thrived, and presumably evolved into the First Order of The Force Awakens.
The teaser plays out almost like a quick scene from Saving Private Ryan as if it were set in the Star Wars universe. What's cool is that we can already see a couple Star Destroyers have crashed into the sand, just as we saw in the second teaser trailer for The Force Awakens, and another one is crashing down to the surface as well. This is going to be in an intense battle, and it'll be neat to see more of Jakku, likely even more than we saw in that recent 360 degree video on the planet.