'The Girl With The Dragon Tattoo' Sequel Moves Forward Without Daniel Craig, Rooney Mara, Or David Fincher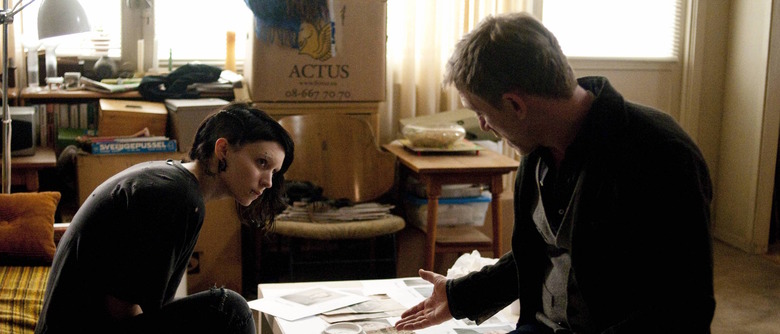 Sony never intended to stop with just The Girl With the Dragon Tattoo. The hope was that the film would kick off a whole franchise, with subsequent films based on the other books in Stieg Larsson's Millennium series. But the 2011 release didn't do quite as well as anticipated, and then there was some question of whether Daniel Craig and David Fincher would return, and, well, fast forward to 2015 and even Rooney Mara has given up hope.
Until, that is, today. The studio is finally getting the ball rolling on a Dragon Tattoo sequel, four years after the original hit theaters. However, it won't quite be the film we were expecting. Sony is looking to adapt The Girl in the Spider's Web, not The Girl Who Played With Fire. What's more, Fincher and his original cast aren't returning — as of now, word is Alicia Vikander is the top choice to replace Rooney Mara. 
According to TheWrap, Steven Knight (Locke, Burnt) has been tapped to pen The Girl in the Spider's Web for the studio. It's still possible that The Girl Who Played With Fire will get made eventually, especially since it already has a very expensive script by Steve Zaillian. But if it does, it'll be after Spider's Web and it'll star the new Lisbeth Salander.
Published in 2014, Spider's Web is the fourth Millennium novel and the first one written by David Lagercrantz, who took over the series after Larsson's death in 2004. It continues the adventures of antisocial hacker Lisbeth Salander and journalist Mikael Bomkvist, who once again get caught in a web of cyber-intrigue. Lagercrantz is slated to publish two more Millennium books in 2017 and 2019.
Producers Scott Rudin and Amy Pascal reportedly have their eyes on Vikander to replace Mara, but no casting will be confirmed until after Knight turns in his script. Vikander seems like a good, if obvious choice: she's a big talent on her way up, she kind of looks like Mara if you squint, and she's even Swedish. But Lisbeth Salander should be a plum role for any actress, seeing as it eared Mara an Oscar nomination and kicked her career up to the next level.
The Girl With the Dragon Tattoo had a budget of around $90 million, not including the cost of promotion. So even though it made $233 million worldwide co-financier MGM took what it described as "a modest loss." Not surprisingly, they're looking to make the sequel for cheaper — which is why Craig isn't returning. Although the studio has an option on him for two sequel, he wants a pay raise that they're not willing to give him.Spider's Web will essentially functions as a reboot, though we don't know if it technically is one. (That is, whether these are new versions of the characters, like Tom Holland is to Andrew Garfield's Spider-Man, or just recast versions, like Mark Ruffalo is to Ed Norton's Hulk.) Which is probably the best way to go at this point. Mara, Craig, and Fincher are all busy with other things, and a lot of the hype surrounding Fincher's film and Larsson's novel has died down.
Are you excited for more Dragon Tattoo adventures, or do you wish Sony would just let the property die?