New 'Star Wars: The Force Awakens' Posters: Han, Leia And The Rest Of The Crew Are Ready For Their Close-Ups, Mr. Abrams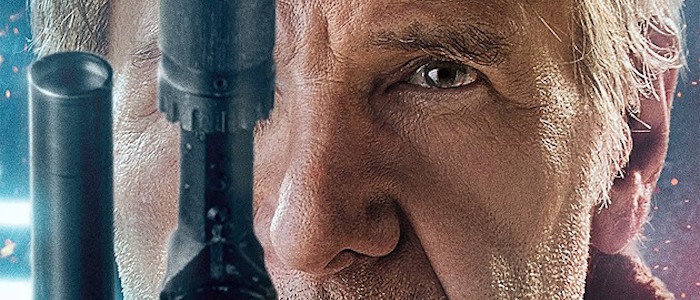 Just when you thought it was safe to take a breath and think about something other than Star Wars: The Force Awakens for a few minutes, a big batch of character posters have arrived. These five posters, depicting Han Solo, Leia Organa, Rey, Finn, and Kylo Ren, may not be as classical as Drew Struzan's poster or as colorful and eye-popping as the main one-sheet, but they get their point across quite nicely: here are five characters, both new and old, from the new Star Wars movie. Get to know them well. You will be seeing them a lot.
Go ahead and check out the new Star Wars character posters for yourself after the jump.
Each of the posters follows a similar style: a close-up of the character's face with their right eye obscured by something. In the case of Han Solo (Harrison Ford), it's his trusty blaster. For Rey (Daisy Ridley), it's her staff. Both Kylo Ren (Adam Driver) and Finn (John Boyega) share their posters with their lightsabers (note how Kylo Ren's homemade laser-sword differs from Finn's). And finally, there's Leia (Carrie Fisher), her face obscured by the lighting in what seems to be some kind of command room. Each character is presented with their weapon of choice – in Leia's case, that weapon of choice is her leadership.
Let's be honest with ourselves here: these posters aren't the sexiest things to come out of the Star Wars marketing machine. Our own Peter Sciretta is definitely not a fan of them. I'm a little more neutral, myself. They're okay. However, these posters don't exist to be hung on walls and appreciated by devoted Star Wars fans. They exist to line the wall of a multiplex, drawing the eyes of normal people who aren't slavishly counting down the days until The Force Awakens opens in theaters. Lucasfilm has already got you, dear /Film reader. Now they're going after everyone else on the planet.
There are a few characters missing from this line-up, though. Where is Poe Dameron (Oscar Isaac), the Resistance X-Wing pilot? Or Captain Phasma (Gwendoline Christie) and General Hux (Domhnall Gleeson), Kylo Ren's Dark Side compatriots? We imagine this is only the first batch of posters and that more will be on the way soon. Do you really think they'll skip the opportunity to give BB-8 a character poster to call its own?
Star Wars: The Force Awakens is set to open on December 18, 2015. But you knew that already.