Jon Stewart Heads To HBO With New Four-Year Deal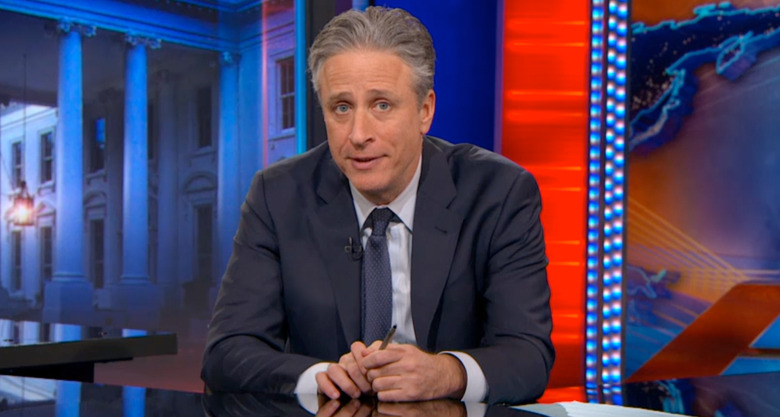 After leaving behind The Daily Show at Comedy Central earlier this year, Jon Stewart has found a new home at HBO with a four-year deal that will have him creating a variety of entertainment for the cable network.
Stewart will begin working at HBO by creating some short-form digital content that will be showcased on HBO Now, HBO Go and some other platforms. The focus of this first endeavor isn't very clear right now, as it's only described as "timely short-form digital content." That's very similar to what the comedian did on The Daily Show, but it sounds like this Jon Stewart HBO deal won't be quite as intensive.
THR has word on the new deal at HBO, which also includes a first-look option for other film and TV ventures. And considering Stewart took time off from The Daily Show a couple years ago to make his feature directorial debut with Rosewater, it stands to reason that he might have some other film and TV ideas that he wants to work on.
But as we said, first up is this digital content project. Stewart will be collaborating with cloud-graphics company OTOY, Inc. to develop new technology that will allow Stewart to produce the timely content that will reportedly be "refreshed on HBO Now multiple times throughout the day."
But don't expect him to get back into a regular routine as rigorous as The Daily Show. Stewart says, "Appearing on television 22 minutes a night clearly broke me. I'm pretty sure I can produce a few minutes of content every now and again." It's not clear if the short-form digital content will be news-oriented like Last Week Tonight with John Oliver or maybe something a little broader in scope. But it's just nice knowing that we'll have Stewart doing more original stuff again.
Stewart has a history with HBO that goes back to his stand-up comedy days nearly 20 years ago. He starred in a stand-up special called Jon Stewart: Unleavened (which you can watch in full online), hosted the special George Carlin: 40 Years of Comedy as well as Mr. Show with Bob & David, and appeared a handful of times on The Larry Sanders Show.
And now he's joining his former Daily Show colleague John Oliver at the network that has quickly become a key player in news satire, rivaling even the work that Stewart was doing at The Daily Show. I'll be interested to see what kind of content Stewart churns out at HBO.