This 'Star Wars' Trilogy Poster By Gabz Is Incredible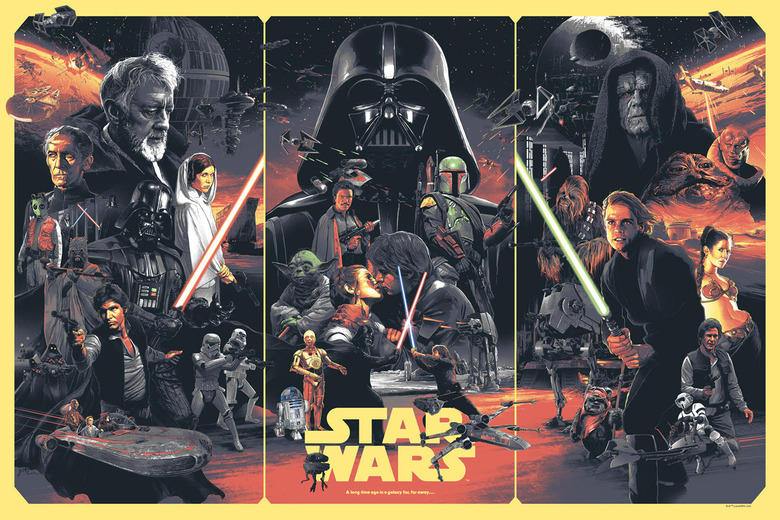 There have probably been more art and prints released based on the Star Wars films than any other movie or film franchise. And there is a lot of great Star Wars art, from the Drew Struzan official posters, the colorful one-sheets by Noriyoshi Ohrai, Ralph McQuarrie's concept art, Mondo's screen printed series which included work by artists Tyler Stout, Olly Moss, Ken Taylor and Kevin Tong, to even some of the more recent work from artists such as Marko Manev and Craig Drake. And with the series launching into a new trilogy at Disney, we have a lot more to come with the upcoming official Art Awakens Star Wars art show at Gallery 1988.
I have a bunch of Star Wars prints on my walls, but probably most notably the Olly Moss trilogy set which I consider to be the best Star Wars art posters ever released. Well, there is a contender to that throne. Lucasfilm, Acme Archives and Bottleneck Gallery have teamed together with artist Grzegorz Domaradzki (aka Gabz) on an officially licensed Star Wars poster print which is just incredible.
And the best news is that unlike many of these limited edition screen prints that are almost impossible to buy because they sell out in seconds, this is a print that you will be able to bring home if you don't hesitate. Hit the jump to see the variant version of this Gabz star wars poster print, and learn where and when you can grab it!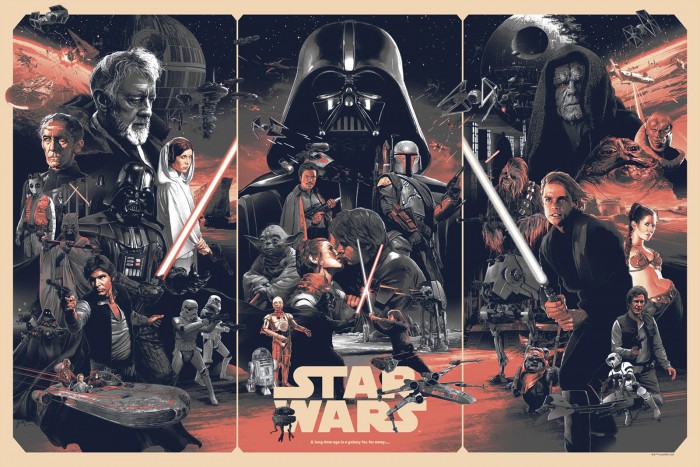 The art print is titled simply "Star Wars" and was created by artist Grzegorz Domaradzki (aka GABZ), whose work we've featured many times in the past few years. Here is a statement from the artist about this piece:
"I have always been a huge Star Wars fan and I cannot even describe how profoundly thrilled and honored I was when I was given the opportunity to work on the original Star Wars trilogy. I had been actually planning to work on a personal Star Wars triptych for months, preparing rough notes and occasional sketches, so the timing could not have been better. I am truly delighted that Joe and the studio gave me freedom to do whatever I wanted. Although at first I planned on doing something clean, iconic and centered primarily around Luke Skywalker, in the end I decided to try to capture the most of SW plot with very carefully picked characters and essential scenes from all 3 episodes. I would not like to reveal all the details so that the fans could discover all the hidden clues themselves. Thus, I will just say that I started building the composition around the Dark Side represented by Darth Vader and his conflict between the soon-to-become-a-Jedi-Knight, Luke Skywalker. The toughest part for me was to maintain the balance between the left and the right side of the piece where not only the lightsabers had to be exactly in the same spot (to form a triangle in the middle), but also I wanted to squeeze in as many characters from each episode as I could without making the picture all too overcrowded. This was hardly an easy task! There are many amazing SW prints out there, but I do not think I have ever seen anybody trying to do the original trilogy on one canvas before. I do hope that the fans will enjoy the final result as much as I do. Finally, I also want to mention D&L, who were responsible for the printing, and who, as always, have delivered a top notch quality prints. May the force be with you!"
And here are some beautiful close-up shots of the piece:
Two versions of the poster will be released, both sized 36 x 24 inches:
The regular is a 7 color screen print with a yellow border (seen in the header of this post) which will sell for $50 in a timed, numbered edition. This means that you will have the opportunity to buy this print from Thursday, November 5th 2015 at 12pm eastern till Sunday, November 8th 2015 at 11:59pm eastern, and however many are purchased during that time will be the edition size.
The variant will be a 6 color grey screen print (seen above) available for purchase for $65 while supplies last. The variant will be a limited edition of only 225.
Purchase the posters on the Bottleneck Gallery's website. I think I prefer the classic worn look the grey brings to the variant poster, but I also like the greens and blues that are in the characters in the regular version.
Its also worth noting that Princess Leia appears in her slave outfit, and this comes days after we heard that Lucasfilm and Disney were putting a stop to merchandise featuring Slave Leia. If that report is true (and it comes from good sources, artists involved with Lucasfilm) it might be possible that this is one of the latest pieces of Star Wars merchandise featuring Slave Leia.