First 'Warcraft' Footage Gets Right To The Action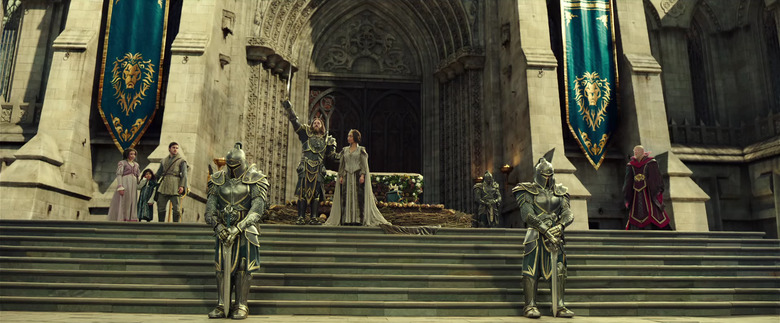 We know, we know: these so-called "trailer teases" are just a cheap way for studios to milk all the publicity they can out of a couple minutes of footage. But we also know that there are plenty of Warcraft fans who've been dying to see even the tiniest bit of action from Duncan Jones' new movie. And who are we to make you wait? Watch the very first footage from Warcraft after the jump. 
Legendary posted the first Warcraft footage in advance of the full Warcraft trailer release on Friday.
The most obnoxious trailer teases are the ones that are little more than a glorified title treatment. The Warcraft trailer tease, thankfully, offers a good 10 seconds of action-packed footage from various scenes. And it looks impressive: beautifully designed and meticulously realized, with a grand scale that puts most action-adventure tentpoles to shame. So, you know, if nothing else, we now know that Jones's Warcraft includes at least 10 seconds of cool fight and flight scenes.
Based on the footage we saw at Comic-Con, the bigger question may be how Warcraft handles the smaller stuff. It's one thing to make CG creatures look convincing in the context of a big battle scene, but Warcraft gets up close and personal with its orc characters. We should have a much better idea when the full-length trailer hits Friday.
Warcraft arrives June 10, 2016. Travis Fimmel, Toby Kebbell, Paula Patton, Ben Foster, and Dominic Cooper star.
The peaceful realm of Azeroth stands on the brink of war as its civilization faces a fearsome race of invaders: Orc warriors fleeing their dying home to colonize another. As a portal opens to connect the two worlds, one army faces destruction and the other faces extinction. From opposing sides, two heroes are set on a collision course that will decide the fate of their family, their people and their home.
So begins a spectacular saga of power and sacrifice in which war has many faces, and everyone fights for something.