The Younger, Hipper FBI Agents Are Out There: 'X-Files' Revival Spin-Off Possibly, Maybe, In The Works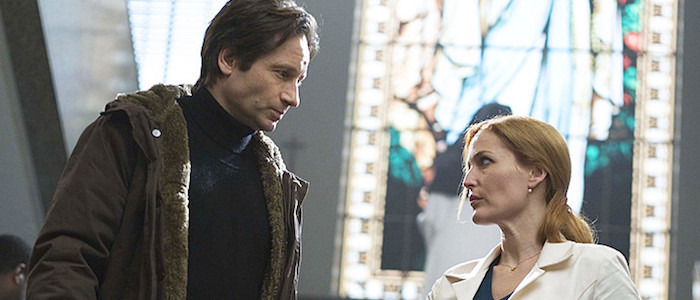 The upcoming X-Files revival most likely functions on its own, as a brief return to the popular, conspiracy-laden world of FBI agents Fox Mulder and Dana Scully. However, you just know that series creator Chris Carter and Fox both hope this thing is huge, allowing them to keep the aliens and black oil and weekly supernatural threats coming for the foreseeable future. After all, resurrecting beloved shows to appease a dedicated fanbase is all the rage these days. Why not the best genre show of the '90s?
But if The X-Files is to continue beyond this event series, it may take on a new form. With David Duchovny and Gillian Anderson not wanting for work elsewhere, it's not beyond the realm of possibility to see a new set of (younger! hipper!) agents pick up where Mulder and Scully left off. And since the new batch of episodes introduce some fresh-faced characters, rumors of a potential spin-off have taken root.
While the new batch of episodes will see the return of Mulder and Scully (as well as old allies like Agent Skinner and old enemies like the Smoking Man), they will also introduce Agents Miller and Einstein, played by The Flash star Robbie Amell and Six Feet Under's Lauren Ambrose. According to TV Line, a spin-off series following the further exploits of these two characters was considered, but it never materialized.
Or did it? For all we know, those discussions have only been put on hold while everyone sees how the new series goes over, and if the new characters strike a chord with audiences. TV Line quotes Chris Carter himself as saying that there is nothing in the actors' contracts that indicates a potential spin-off... but that doesn't mean something can't be negotiated. Trust no one. The truth is out there. You know the drill.
As for the characters of Miller and Einstein, all we really know is that they are "sharp and smooth" and "smart and confident." Not much to go on there.
If you're hoping to catch a glimpse of Amell and Ambrose in the latest X-Files trailer, you're out of luck. Actually, you're out of luck if you want to see anything new at all. We've reached the point in the marketing for this series that every new spot and preview is essentially recycling the new footage, slapping on different bits of voice over here and there. We still only know the basics: Mulder and Scully are back and those X-Files cases aren't going to solve themselves.
The X-Files will return for its limited, six-episode run with a two-night premiere on January 24 and January 25, 2016. Let's see if those younger co-stars have even half of Duchovny and Anderson's chemistry.