'Christmas Eve' Trailer: Patrick Stewart Wishes You All A Merry Christmas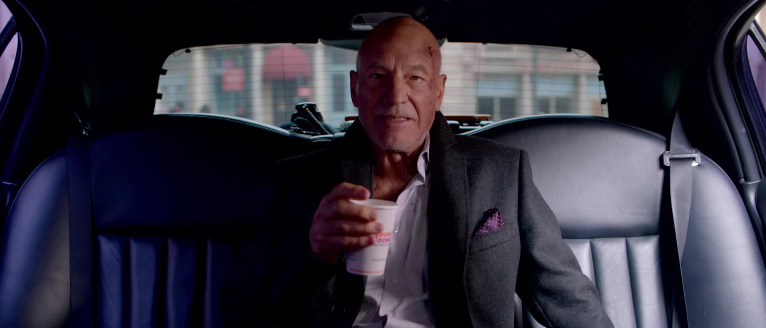 We rarely see great Christmas movies. We've only had a few notable ones in the past ten or fifteen years, including Kiss Kiss, Bang Bang, The Ice Harvest, Catch Me If You Can, and Bad Santa – and two of those titles aren't really even about the spirit of Christmas. But there are three Christmas movies coming out in the next two months about the holidays, and one of them has real potential. Is Christmas Eve that one film?
Watch the Christmas Eve trailer after the jump.
The one promising Christmas movie coming out this year, in my opinion, isn't Christmas Eve; it's director Jonathan Levine's (50/50) The Night Before. That film, which stars Seth Rogen (Steve Jobs) and Joseph Gordon-Levitt (The Walk), has a lot of good buzz going for it. Christmas Eve, like the forthcoming Love the Coopers, appears to be the kind of Christmas movie that comes and goes. The worst movies about this joyous holiday are generally the most schmaltzy ones. The trailer for Christmas Eve definitely wears its heart on its sleeve — perhaps a little too much.
Here's the trailer for director Mitch Davis' film, which seems to give away kind of a lot:
The film stars Patrick Stewart (Green Room), Jon Heder (Blades of Glory), Cheryl Hines (Curb Your Enthusiasm), Max Casella (Inside Llewyn Davis), and Gary Cole (Office Space). After watching the trailer, you definitely feel like you've watched the whole movie. Obviously there's only so much a trailer for a movie about characters stuck in elevators can show, but nonetheless, this seems like an awfully spoiler-heavy trailer.
At least the trailer didn't show us whether Stewart's curmudgeonly character has a change of heart because of the spirit of Christmas.
Here's the official plot synopsis for Christmas Eve:
When a power outage traps six different groups of New Yorkers inside elevators on Christmas Eve, they find that laughter, romance, and a little holiday magic will get them through – and change their lives in unexpected ways. A heartless real estate tycoon (Patrick Stewart) clings to life in a precarious construction elevator hundreds of feet off the ground. Unexpected relationships bloom for a musician (Cheryl Hines) stuck with her dysfunctional orchestra mates, as well as an aspiring fashion photographer (James Roday) confined with the introverted paralegal in his apartment building (Julianna Guill). A crass HR manager (Max Casella) trapped with an employee he just fired (Jon Heder) and a cynical doctor (Gary Cole) transporting his terminal patient are forced to reconsider the way they think about others in this all-star ensemble comedy that proves that in a city of eight million, you never know who you might get stuck with.
Christmas Eve opens in theaters December 4th.