Watch Starz's 'Flesh And Bone' Premiere Episode Online For Free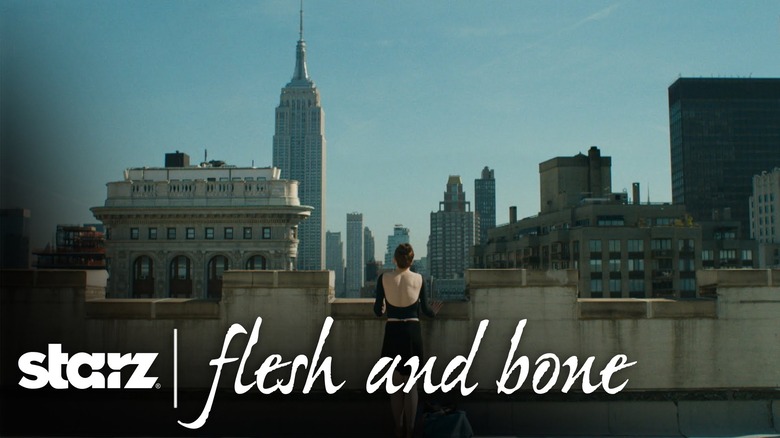 Starz has a diverse fall lineup. The show most people are talking about right now is Ash vs. Evil Dead, and most fans of the series were quite pleased with the premiere this weekend. Another series airing soon on the network is Flesh and Bone, which has a pilot directed by one of the most promising directors working today. Before the premiere airs, the cable network has made the first episode available online for free.
Find out where to watch the Flesh and Bone premiere online for free after the jump.
The pilot is directed by David Michôd. The filmmaker's first film, Animal Kingdom, is an excellent crime drama. Michôd's sophomore effort, The Rover, wasn't as popular with critics, but his sparse post-apocalyptic tale, starring Guy Pearce (L.A. Confidential) and Robert Pattinson (Maps to the Stars), was one of the best films of 2014. Flesh and Bone (watch the trailer here) is the second time he's directed for television. Last time he worked in TV was for HBO's sadly short-lived Enlightened.
Flesh and Bone, created by Moira Walley-Beckett (a producer and writer on Breaking Bad), is about the highly-competitive world of ballet. The show is set in one of New York City's most prestigious dance schools, led by a "passionate" art director. The show features 22 professional ballet dancers, including, to name a few: Center Stage actor and former American Ballet Theatre soloist Sascha Radetsky, former American Ballet Theatre principal dancer Irina Dvorovenko, and Ballet Arizona company dancer Raychel Diane Weiner.
You can watch the Flesh and Bone premiere at EW, which starts off with a cool teaser for The Girlfriend Experience, executive-produced by Steven Soderbergh (The Knick). With Flesh and Bone, we should probably expect plenty of unsettling shots of bones cracking, a broken ankle or two, and other realistic depictions of everything else dancers put themselves through. There haven't been too many movies or shows made about ballet, so there's still plenty of new ground to cover. The last few movies that explored this world compellingly include Darren Aronofsky's Black Swan and Robert Altman's The Company.
Here's the official plot synopsis of Flesh and Bone.
The drama follows a young dancer with a distinctly troubled past as she joins a prestigious ballet company in New York. The dark, gritty, complex series unflinchingly explores New York City through the eyes of Claire, played by Sarah Hay (Black Swan), an emotionally wounded but transcendent ballerina navigating the dysfunction and glamor of the ballet world. Claire's self-destructive tendencies amid her vaulting ambitions drive her in compelling, unforeseeable ways, especially when she is confronted with the machinations of the company's mercurial Artistic Director, played by Ben Daniels (House of Cards) and an unwelcome visitor from her past.
Flesh and Bone premieres on November 6th.