'War And Peace' Miniseries Trailer: Lily James And Paul Dano Take On Leo Tolstoy's Classic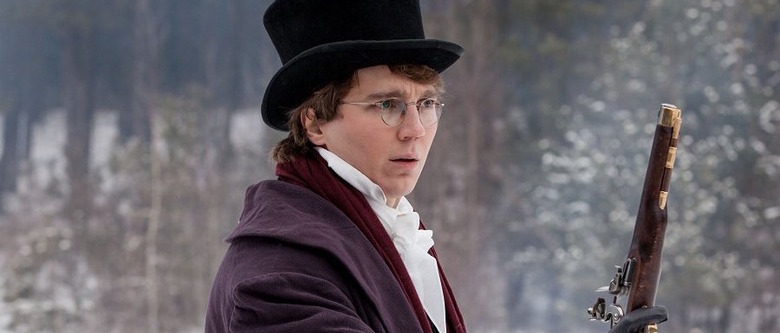 War and Peace is a real doorstop of a book — around 1,400 pages, give or take a hundred pages depending on the publisher and edition. So if you've always meant to read it but haven't gotten around to it quite yet, you may be interested to know that you'll have the chance to get through the story in a mere six hours this fall.
The Weinstein Company and BBC America have teamed for a miniseries adaptation of the Leo Tolstoy classic, starring Lily James, Paul Dano, and James Norton. Gillian Anderson, Jim Broadbent, Rebecca Front, Aneurin Barnard, Tuppence Middleton, and Stephen Rea also make appearances. Watch the War and Peace miniseries trailer after the jump. 
BBC One unveiled the War and Peace miniseries trailer.
The War and Peace inevitably whittles down Tolstoy's classic, but it's probably a decent introduction to his work as long as you're not being tested on it. (If you are being tested on it because you're a student who's supposed to be reading War and Peace for class, you should probably at least supplement your TV-viewing with some Cliffs Notes.) Tom Harper (Peaky Blinders, The Woman in Black 2: Angel of Death) directs from a script by Andrew Davies (Mr Selfridge, the original British House of Cards).
Costume dramas have a bit of a reputation for stuffiness. Often, that reputation is even earned. But the new War and Peace looks grandly epic and thrillingly alive. There's the trauma of battle, the pain of childbirth, the passion of romance, and the joy of youth. There's a whole lot of twirling, and even more screaming. And there's this tragic, if factually accurate, observation: "Everything ends in death. Everything."
Plus, of course, there's all the usual jaw-dropping costumes and sets you'd expect from a lavish historical drama. Not to mention the usual themes of class and marriage. And a fantastic cast — particularly James, the Downton Abbey actress who enjoyed a breakout turn in Cinderella. Really, if Russian literature, BBC dramas, and/or historical epics are up your alley at all, War and Peace looks like something to look forward to.
War and Peace hasn't yet set a premiere date, but it's expected to air on BBC One this winter. In the U.S., War and Peace will air on A&E, Lifetime, and History.