Cool Stuff: Gallery1988's Art Awakens Star Wars Art Show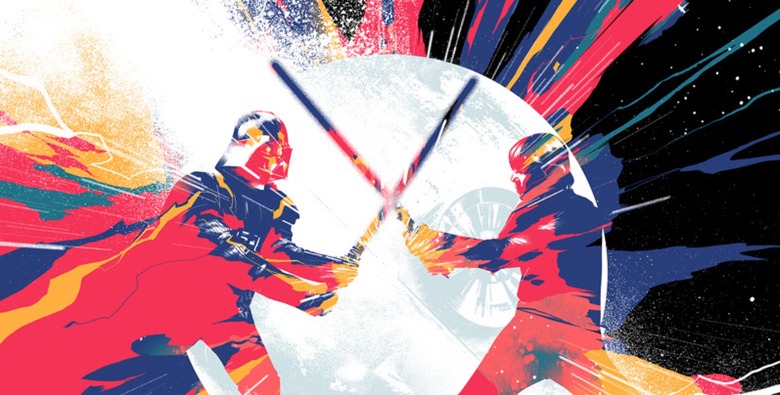 When Lucasfilm and Disney announced the Star Wars "Art Awakens" initiative, it was revealed they were working with Los Angeles-based art gallery Gallery1988 on an official Star Wars: The Force Awakens art show. This got the whole art and screen print community excited. And now we have the first real details and a sneak preview of just a few of the pieces of art which will be available at the show. Hit the jump for the info.
The Star Wars: Art Awakens art show will take place on November 14th and 15th 2015 at Gallery1988 (West) in Los Angeles.
Gallery1988 (West)
7308 Melrose Ave.
Los Angeles, CA
90046
The exhibit will be auctioned off in the name of Star Wars: Force for Change to benefit UNICEF Kid Power and the show's original pieces will be up for auction through eBay's Giving Works. But don't worry, some art will be made affordable for your everyday Star Wars fans: 7 screenprints will be available exclusively in-store during the weekend-long gallery event.
Gallery 1988 have announced the following list of artists participating in the exhibit. I've highlighted some of the artists we've featured numerous times over the years:
100% Soft (who created the Star Wars emojis you see on twitter)
Aaron Jasinski
Alex Pardee
Andrew DeGraff
Andrew Thompson
Andy Stattmiller
Anthony Petrie
Ashton Gallagher
Benjie Escobar
Bennett Slater
Brad Hill
Brandi Milne
Bruce White
Chris Murray
Clark Orr
Dan Lydersen
Dan McCarthyDan Mumford
Danielle Murray
Dave Perillo
Dave Quiggle
DKNGEric TanJC RichardJeff Boyes
Jerkface
Joey Remmers
Joey Spiotto
Josh Keyes
Joshua Budich
Julian Callos
Justin Santora
Kelly McKernan
Ken Garduno
Kiersten Essenpreis
Kris Lewis
Kristin Tercek
Leontine Greenberg
Lola
Lorraine Loots
Louis Perez
Marie Bergeron
Mark EnglertMatt Taylor
Meghan Stratman
Mike Shinoda
N.C. Winters
Nan Lawson
Naoto Hattori
Nate Frizzell
Nathan Stapley
Nicole Gustafsson
Rich Kelly
Rob Prior
Robert Bowen
Roland Tamayo
Ruel Pascual
Sam Wolfe Connelly
Sarah Joncas
Scott C
Scott Listfield
Shannon Bonatakis
Stephen Andrade
Tom Whalen
Travis Louie
Veronica Fish
Thats a very VERY solid list of artists, although I must admit I'm sad Olly Moss and Tyler Stout didn't make contributions for a show as big as this.
In addition, the show will also feature artwork from the five winners of the Art Awakens Fan Art Competition, which were chosen by a judging committee that includes members from Disney, Lucasfilm and the legendary visual effects house Industrial Light & Magic.
The original artwork will be up for auction on eBay from November 13-23 2015, while prints of select originals will be available for purchase on eBay from November 13th to December 12th 2015. Sales benefit UNICEF Kid Power, an innovative new program that uses the world's first Wearable-For-Good to get youth physically active to provide lifesaving, nutrition-rich food packets to kids in need around the world in the name of Star Wars: Force for Change.
Gallery 1988 also revealed they had their first meeting with Bad Robot about the possibility of doing this event and project over three years ago, which shows you how involved something like this can be. Gallery 1988 of course has a long relationship with JJ Abrams and Bad Robot, having held the infamous Lost screen print exhibition and a later Bad Robot art show;