'Law & Order' Star Fred Thompson Dead At 73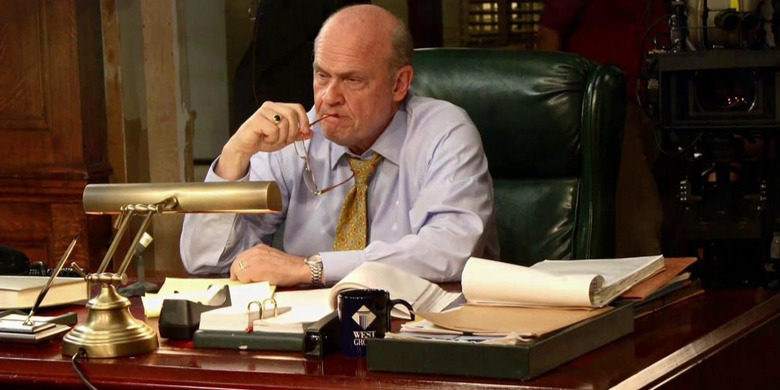 Fred Dalton Thompson, character actor, Law & Order staple, and United States senator, passed away yesterday after a decade-long battle with non-Hodgkin's lymphoma. He was 73 years old. He leaves behind an impressive body of work on both film and television. Although rarely the star of any given television show or movie, Thompson never gave a bad performance – he was a consummate professional and working actor.
More details after the jump.
Although he was born in Sheffield, Alabama in 1942, Thompson grew up and attended school in Lawrenceburg, Tennessee. After earning degrees in philosophy and political science as well as a Juris Doctor degree, he worked as an attorney throughout the '60s and '70s, even acting as minority counsel during the Watergate hearings. He didn't get into acting until the mid-'80s, but his past experience prepared him for playing figures of authority, especially those who work in government or law.
You can see a trend in much of his work. He played the director of the CIA in 1987's No Way Out, an admiral in The Hunt For Red October, and countless characters with titles ranging from Colonel to Detective to Senator. He was a go-to figure of authority, appearing in everything from Die Hard 2 to Days of Thunder.
However, Thompson is best remembered for playing the role of District Attorney Arthur branch in the Law & Order franchise. He was a regular on vanilla Law & Order from 2002 through 2007, but he also appeared in Law & Order: Special Victims Unit, Law & Order: Trial By Jury and Law & Order: Criminal Intent. He even reprised the character in Conviction, a Special Victims Unit spin-off.
Thompson vanished from the screen almost entirely from 1994 through 2003 to pursue a career in politics, taking over Al Gore's old job and representing Tennessee in the United States Senate. He later made a brief attempt to run for President in 2008.
Thompson's family released the following statement (via CNN) after his death:
"It is with a heavy heart and a deep sense of grief that we share the passing of our brother, husband, father, and grandfather who died peacefully in Nashville surrounded by his family ... Our nation has lost a servant, Tennessee has lost a son, and our family has lost its rock."
Sinister screenwriter Christopher Robert Cargill shared this story on Facebook:
Senator Fred Dalton Thompson didn't have to audition for his role in SINISTER as the script had actually described the character as "A Fred Thompson" type. Thompson reportedly took one look at the description of the character and said "I can play that."
He proved to be every bit as friendly, gracious, kind, and funny as his legend had suggested. "Fred Thompson Day," the first day Thompson showed up on set stands as one of my favorite days of the entire shoot. He was a wonderful man who left a legacy both in cinema and politics behind him.
That's how you know you've made it: a writer can mention your name in a screenplay and immediately conjure up everything you need to know about the character. That the writer of that screenplay takes the time to describe you decency and professionalism after the fact is the mark of someone that will be truly missed.