Star Wars Bits: Robert Englund, Neil Patrick Harris, Toys R Us, Disney Infinity & More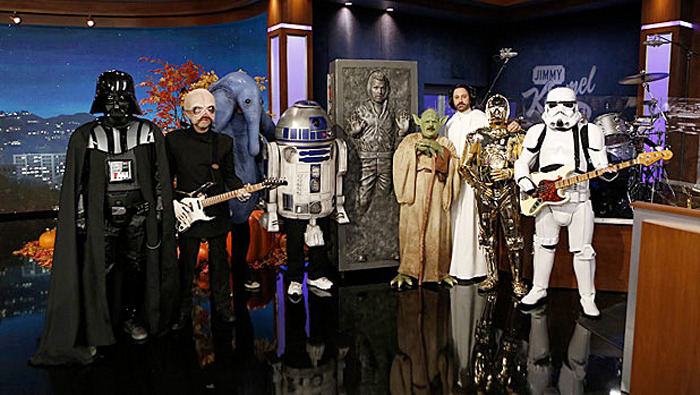 Lord Vader, we only use this facility for Star Wars Bits. You put him in there, it might kill him! Here's what you'll find in this edition of news from a galaxy far, far away:
A video tribute to all the Rebel Alliance pilots killed in Star Wars
How did Robert Englund help Mark Hamill become Luke Skywalker?
Carrie Fisher's advice to The Force Awakens star Daisy Ridley
Neil Patrick Harris and his family got in the Star Wars spirit for Halloween
Jimmy Kimmel Live gets a special Star Wars episode this month
Gwendoline Christie talks Captain Phasma
Harrison Ford talked The Force Awakens dressed as a hot dog
Disneyland Tokyo gets a special Jakku edition of Star Tours
Kevin Smith has seen some of The Force Awakens
See some of the products coming to Season of the Force soon
The Force Awakens stars reprise roles for Disney Infinity 3.0
How is Revenge of the Sith the best Star Wars movie ever?
Peter Mayhew on his time on The Force Awakens set
Star Wars themed Duracell and Toys R Us commercials.
The above video pays tribute to all the Rebel Alliance pilots who died in the original Star Wars trilogy.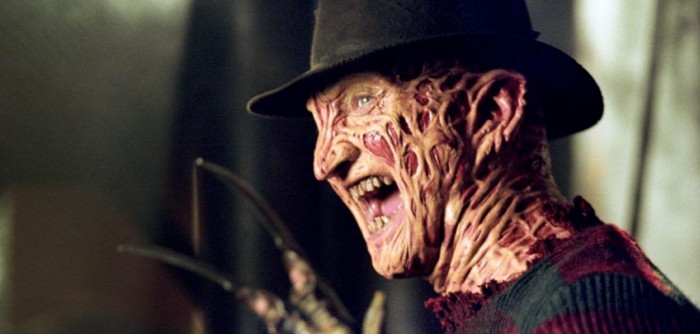 Here's a fun bit of trivia for you: Freddy Krueger could have been Han Solo and he's partially responsible for getting Mark Hamill the job as Luke Skywalker. In a recent interview, Nightmare on Elm Street star Robert Englund told THR about auditioning for Han Solo:
I was at the old Warner lot on Santa Monica Boulevard, across from Formosa. I was up for the surfer, the Sam Bottoms role in Apocalypse Now. I'd been begging my agent to go up for the cook, the Frederic Forrest part of the cook. They said, "You're too old for the surfer." They said, "Go across the hall." So I went from a Coppola Zoetrope audition, across the hall to a George Lucas audition, literally 3 feet away. I went in and they looked at me and they took some Polaroids and shot a little film of me for Han. Almost immediately they told me I was too young. Somehow I had some sides for Luke, I may have picked them up in the outside waiting area.
And then he explained how he helped Hamill get his most iconic role:
On my couch when I got home was Mark Hamill. He was always at my house, practically a third roommate. I came in and I said, "God, I almost got to meet George Lucas." And I had the sides with me, the Luke Skywalker sides. I said, "I think you're right for this, Mark." Mark had a better agent than I did. And I said, "See if you can get in." I think Mark got right on the phone and got an interview for Star Wars. I heard Tom Selleck turned down Han Solo. They wanted Han to be much older than Luke, like an uncle. He was originally conceived of as an uncle who comes home for the holiday that's a little nasty and a little dirty and drinks a little bit and smokes, but someone that's cool and heroic that you look up to.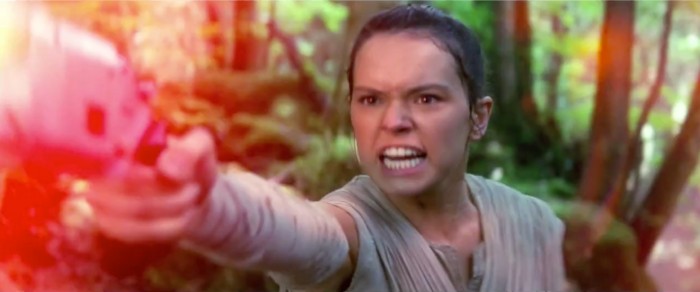 In a profile on Daisy Ridley in Interview Magazine, it was revealed that Star Wars leading lady Carrie Fisher gave some very genuine advice to The Force Awakens star. The actress told Ridley, "You should fight for your outfit. Don't be a slave like I was. You keep fighting against that slave outfit." Sounds like the slave Leia wardrobe from Return of the Jedi is one of Fisher's biggest regrets.
Neil Patrick Harris and his family got in the Halloween spirit, Star Wars style.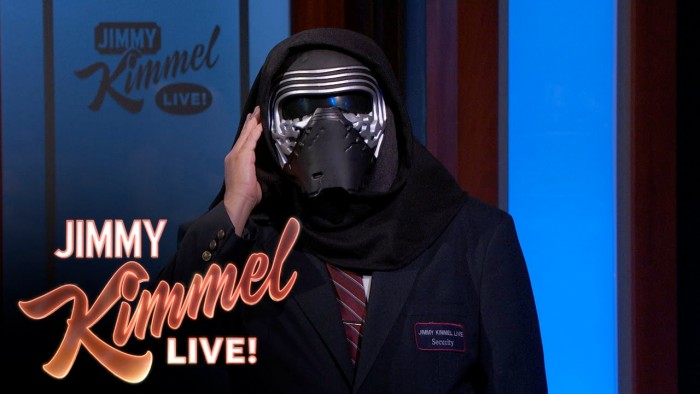 According to Deadline, Disney is giving their own network ABC some prime late night coverage by having Jimmy Kimmel Live be the place to catch a special Star Wars episode of the show on November 23rd. Director J.J. Abrams, Daisy Ridley, Adam Driver and John Boyega will be in attendance, though no word on whether any of our original stars will be making an appearance.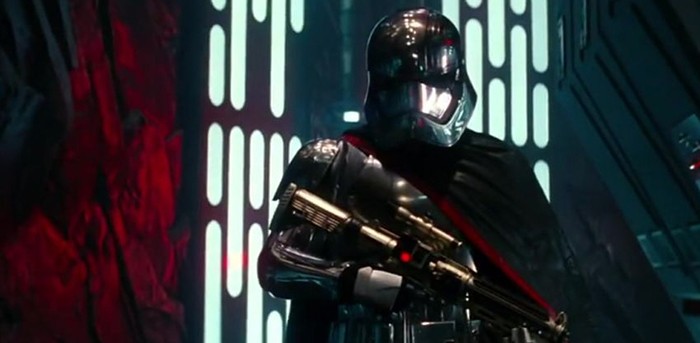 Gwendoline Christie talked briefly to Entertainment Weekly about Captain Phasma in Star Wars: The Force Awakens. The actress talked briefly about why people are drawn to the character despite knowing next to nothing about her:
"We know very little about her at this stage, but what I think people are drawn to is that this is a very progressive female character. We see Captain Phasma, and we see the costume from head to toe, and we know that it is a woman. But we are used to, in our media, connecting to female characters via the way that they look, from the way they are made flesh."
I think she's talking about the fact that fans are already drawn to the character despite the fact that she wasn't made to look like some kind of overtly sexy character. That's true, except for those who really like chrome.
Here's Harrison Ford, dressed as a hot dog, on Jimmy Kimmel Live, talking about The Force Awakens.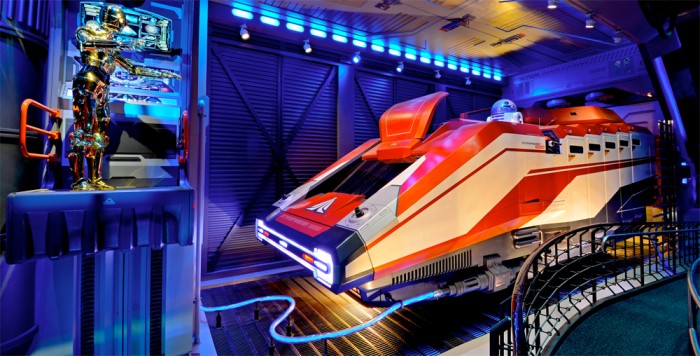 Over at Disneyland Tokyo, their Star Tours ride will feature a Jakku version of the ride inspired by The Force Awakens. For a limited time, that will be the only destination used on Star Tours, but after awhile it will become randomized. It is expected the same thing will happen with Disneyland and Disney World in the United States, but we don't know for sure just yet. [MakingStarWars.net]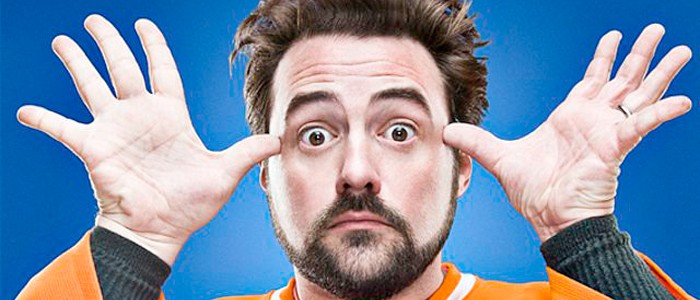 On a recent episode of Hollywood Babble-On, director Kevin Smith kinda revealed that he's seen part of Star Wars: The Force Awakens. Epic Stream has this quote from the filmmaker:
"I saw a buddy of mine, a fellow filmmaker friend, who is making this movie that is so f***ing wonderful. And I saw a chunk of it. And it was... spellbinding. This is the only way I can describe it. It's like, I love movies and sometimes I over praise them and s**t, but this is the only way I can describe this: it was like – not figuratively, literally – being transported to the fountain of youth. And having the fountain of youth take me back to 1977. First time I saw a picture called Star Wars. I can't say much more."
Sounds like fans are going to be satisfied in December.
Here's some of the products coming to Season of the Force in November. [MakingStarWars.net]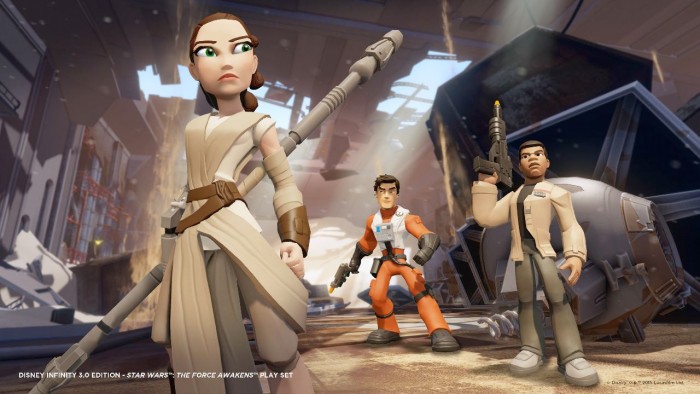 Disney Infinity's John Vignocchi recently talked to GiantBomb about the fact that he read the script for Star Wars: The Force Awakens about a year ago, forced to keep all the secrets to himself this whole time. He doesn't think fans are going to be disappointed at all, saying that while he read the script, "I shouted 'hell yeah' three or four times."
In addition, he confirms that many of the stars of The Force Awakens are reprising their role for the new sets that are on the way for Disney Infinity 3.0. [MakingStarWars.net]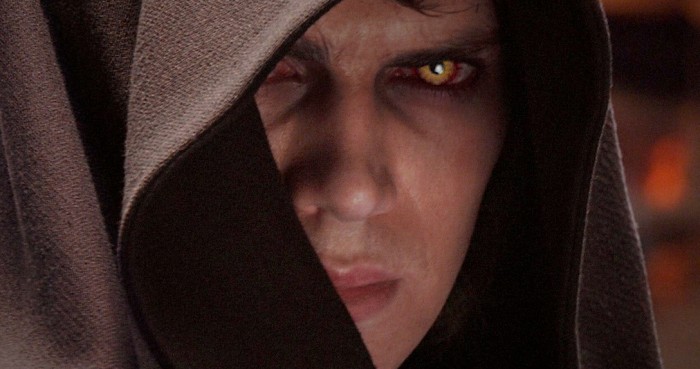 Here's something that might be a little disturbing for Star Wars fans:
If Rotten Tomatoes scored both Star Wars trilogies using ONLY reviews from original releases, it'd look like this: pic.twitter.com/C7UER0r4LY

— Mike Klimo (@MikeKlimo) October 28, 2015
Feel free to discuss and argue in the comments, though I imagine we're probably all on the same page.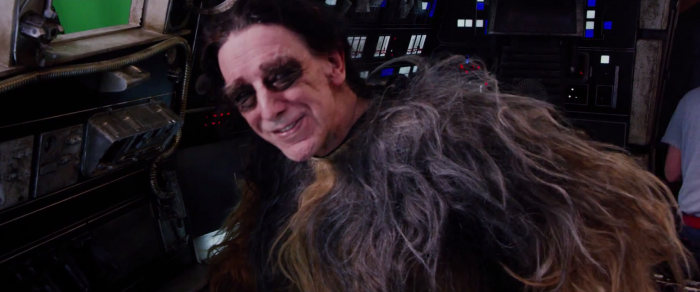 Star Wars veteran actor Peter Mayhew, who plays Chewbacca, talked about being on the set of The Force Awakens with Harrison Ford again. Mayhew told Bmag (via StarWarsNewsNet):
"Harrison's one of the guys," he says. "We've been friends for a long time, and he's always been about giving advice and talking things through. He'll ask what you want to do, and he'll tell you how he wants to do it, too. He'll say, 'No, let's try [the scene] this way... don't look over there, look over here'. Just little things. He's got a really soft voice, but I know he's very interested in what's going on, not only as an actor, but almost as a director. And as a friend!"
Find out what else Mayhew had to say about Daisy Ridley, John Boyega and more over here.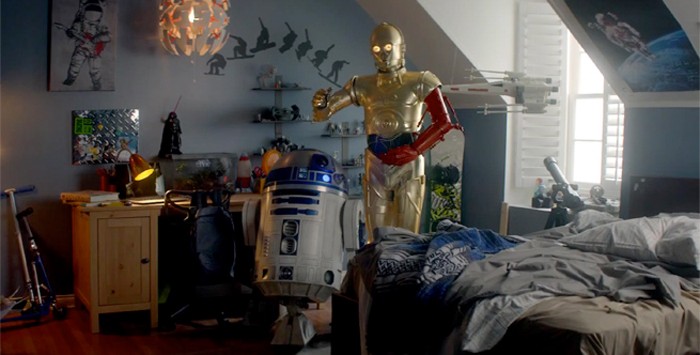 Finally, the onslaught of Star Wars themed advertising is beginning with product tie-ins over at Toys R Us and Duracell. The latter advertisement is pretty fantastic, and it even features the red-armed C-3PO and new First Order troopers in action:
That's all for this edition of Star Wars Bits. Stay tuned for more soon.