POTD: Ryan Reynolds As 'Deadpool' Teamed Up With The X-Men For Trick Or Treat
Whether they were scantily clad members of the Avengers or cheap renditions of the Justice League, you probably saw a lot of superheroes walking around. But some lucky trick or treaters were lucky enough to team up with someone as close as they can get to a real superhero.
Ryan Reynolds hit the streets last night dressed as Deadpool, and it looks like he found some movie marketing friendly kids dressed as his 20th Century Fox owned Marvel Comics cohorts known as the X-Men.
Here's the image Ryan Reynolds posted on Twitter last night: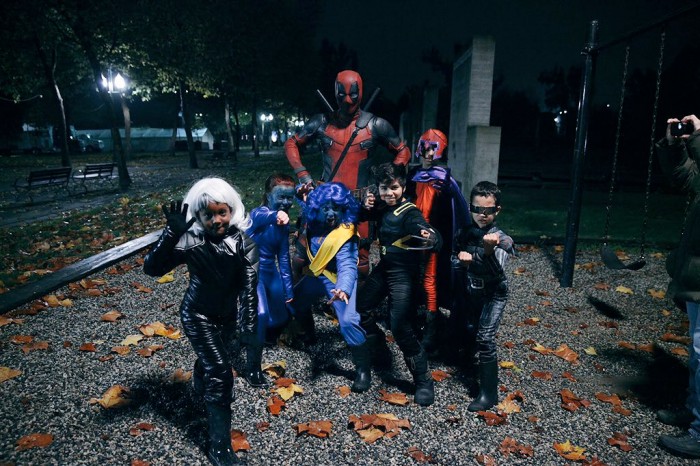 This Happy Deadpool Halloween fun is simultaneously adorable and cool, and in true Merc with a Mouth fashion, he was a little bit of a smart ass by tweeting along with the photo, "Dear Fox, stop changing the timelines. It's confusing the audience."
We're not sure if we'll ever get to see Deadpool actually on screen with the likes of Storm, Cyclops, Beast, Mystique and Magneto (and we're desperate to forget the first time he was onscreen with Wolverine), but we do know that he'll be hanging out with Colossus quite a bit in his own movie.
By the way, I must say that while it's adorable to see these little X-Men teamed up with Deadpool, I have two small problems. First, those kids are way too young to be hanging out with such a vulgar, killing machine like Deadpool, and they probably won't even be allowed to see that movie for years.
Secondly, those kids costumes seem a little too good for this not to be an orchestrated marketing move, especially since it's just Fox's X-Men and no other Marvel characters used in the picture. But even so, that doesn't ruin how nice of a photo op this is for a little Halloween fun.
Deadpool is directed by Tim Miller and written by Rhett Reese and Paul Wernick (Zombieland). The rest of the cast includes T.J. Miller as Weasel, Gina Carano as Angel Dust, Brianna Hildebrand as Negasonic Teenage Warhead, Morena Baccarin as Copycat and Ed Skrein as Ajax, not to mention a prominent role for Andre Tricoteux as the metal mutant Colossus.
Based upon Marvel Comics' most unconventional anti-hero, DEADPOOL tells the origin story of former Special Forces operative turned mercenary Wade Wilson, who after being subjected to a rogue experiment that leaves him with accelerated healing powers, adopts the alter ego Deadpool. Armed with his new abilities and a dark, twisted sense of humor, Deadpool hunts down the man who nearly destroyed his life.
Deadpool arrives on February 12th, 2016.