New 'Warcraft' Movie Photos: Orgrim Doomhammer, Anduin Lothar And Durotan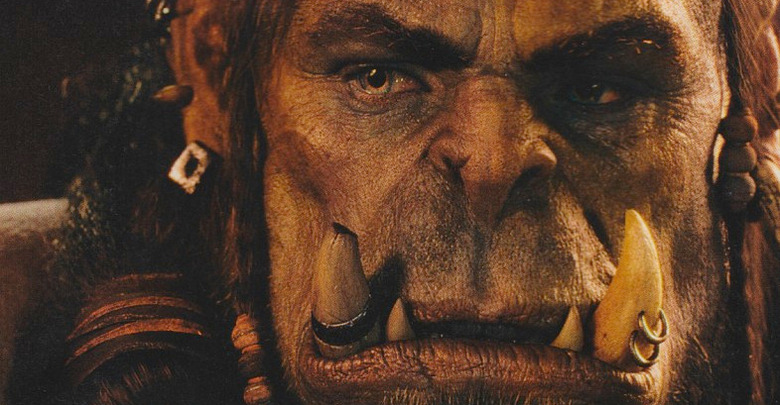 We're just a couple months away from the end of 2015, which means it's time for the marketing of the films of 2016 to begin, and Blizzard Entertainment's Warcraft is starting small with some new images from the video game adaptation set for a summer release.
The new set of Warcraft movie photos show off glimpses of three primary characters: Anduin Lothar (Travis Fimmel), Durotan (Toby Kebbel) and Orgrim Doomhammer (Robert Kazinsky). Check them out below!
Here are the images from Empire (via BuzzHub):
In case you have no idea which character is which, the human is Anduin Lothar, the close-up orc photo is Durotan, and the orc with the massive hammer is appropriately named Orgrim Doomhammer. Sadly since these are scans from the latest issue of Empire, they're not as high quality as we would like, but that close-up shot of Durotan is extremely impressive. Often times computer generated characters don't look as good in stills as they do in motion, but that image is fantastic.
So far all we've seen are images from the film adaptation from Duncan Jones, ranging from a couple teaser posters showing off the primary orc and human characters (Durotan and Anduin), to a series of character images that debuted at Comic-Con over the summer, which is where the first footage from the film was shown off. Here are the other characters we've seen so far:
The images above show off Paula Patton as Garona (a half-elf, half-human), Ben Foster as Medivh (a wizard), Dominic Cooper as King Llane Wrynn, Ben Schnetzer as Khadgar, Clancy Brown as Blackhand (an orc), Ruth Negga as Lady Taria and Daniel Wu as Gul'dan (far right in the second photo).
As an outsider of the world of Warcraft, the footage was a little difficult to follow, not just because it was a random assembly of shots without context, but also because this is some deep, rich fantasy with a lot of mythology behind it. In addition, telling the orcs apart in the footage shown proved to be rather difficult as well.
But I'm looking forward to learning more about these characters and especially how Universal and Legendary Pictures are going to sell this to general audiences. There have been rumblings that Universal sees Warcraft as a "problem movie," but since they were just given a similar prime release date as Jurassic World, director Duncan Jones isn't worried (and he had plenty of fun fighting with Rian Johnson on Twitter recently to prove it). Here's hoping we get a look at some footage from Warcraft before the end of the year.
Warcraft hits theaters on June 10th, 2016.