Fall Back In Time With 'Alice Through The Looking Glass' Teaser Footage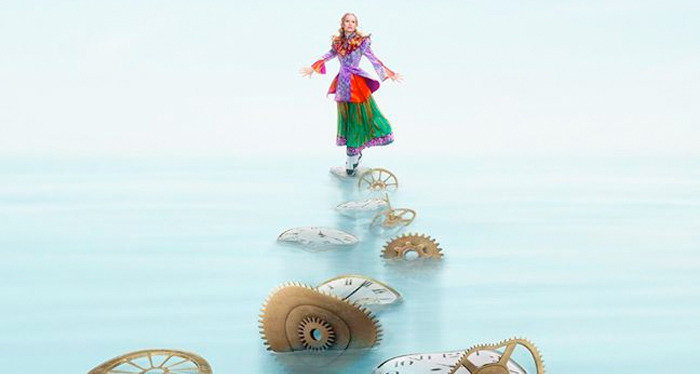 Daylight savings time just ended here in the United States, and hopefully you remembered to set your clocks back an hour and didn't miss out on an extra hour of sleep. Disney certainly didn't forget to take advantage of this day to promote their forthcoming sequel, Alice Through the Looking Glass with a small bit of teaser footage, which means a trailer should be coming very soon.
Check out the Alice Through the Looking Glass teaser after the jump!
Here's what Disney posted on Twitter this morning:
Today is a very important date. It's Time to fall 🔙.https://t.co/lfdJF0GZZ0

— Walt Disney Studios (@DisneyStudios) November 1, 2015
Alice (Mia Wasikowska) was wearing quite the bold and bright dress as she falls through a door in the sky. This was a scene that attendees of the 2015 D23 Expo saw earlier this year, which also featured Sacha Baron Cohen as Time, a character who should make the sequel even more trippy than the first film, even though this one will have less visual effects and more practical sets.
We don't know much about the story yet, but we do know that something isn't right with the Mad Hatter, even moreso than usual. And so Alice must head out on a journey that spans across time where she encounters the younger versions of some very familiar characters, and eventually learning the reasons for the Mad Hatter's madness. It's likely that it has something to to with his father, Zanik Hightopp (played by Rhys Ifans), because it wouldn't be a Disney movie without parental struggles.
The rest of the cast includes Anne Hathaway as the White Queen – Mirana, Helena Bonham Carter as the Red Queen – Iracebeth, Mia Wasikowska as the title character of Alice Kingsleigh, Matt Lucas as Tweedledee and Tweedledum, Ed Speleers (Downton Abbey) as James Harcourt and voice performances by Stephen Fry as the Cheshire Cat, Toby Jones as Wilkins, Alan Rickman as Blue Caterpillar, Michael Sheen as White Rabbit, Paul Whitehouse as the March Hare, Barbara Windsor as Dormouse and Timothy Spall as Bayard.
We're not sure when a full trailer will be available, but with releases such as The Peanuts Movie, The Hunger Games: Mockingjay – Part 2 and The Good Dinosaur coming up, it's safe to say we'll see it sometime this month. Otherwise, you can check out the posters and some of the costumes right here.
Director James Bobin brings his own unique vision to the spectacular world Tim Burton created on screen in 2010 with "Alice in Wonderland," in which Alice (Wasikowska) returns to the whimsical world of Underland and travels back in time to save the Mad Hatter. The film, which once again features Johnny Depp, Anne Hathaway, Helena Bonham Carter and the voices of Alan Rickman, Stephen Fry, Michael Sheen and Timothy Spall, introduces several new characters as well: Zanik Hightopp (Rhys Ifans), the Mad Hatter's father, and Time.
Alice Through the Looking Glass arrives on May 27th, 2016.