'Elstree 1976' Trailer: A Documentary About The Unseen Actors Of 'Star Wars'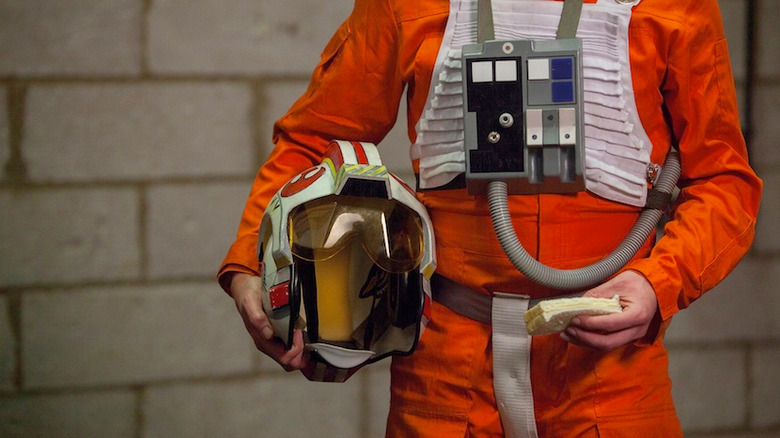 Star Wars is a worldwide phenomenon. After the first film was released in 1977, movies were never the same, and for the bright young stars of the sci-fi adventure life was never the same either. Mark Hamill, Harrison Ford and Carrie Fisher were certified stars, and now they can't go anywhere without being mobbed by legions of fans who just want to shake hands and say hello to cinematic royalty.
But people forget there's a whole other set of actors who worked on Star Wars in the summer of 1976, and that's mostly because you never see their faces on the screen. And for them, everything has been a little different. A new Star Wars documentary called Elstree 1976 highlights the performers who were hidden by alien creature faces, Stormtrooper helmets and even Darth Vader's mask, taking a look at the making of the movie and the legacy of the franchise from their point of view.
Here's the Elstree 1976 trailer, originally from Twitchfilm:
This is a glimpse behind the scenes that you don't normally get to see. Featurettes and documentary films chronicling the making of movies always take a look at the stars and set and talk to the marquee players about the production. But you never get to hear from the extras, many of whom don't even have a line and spend most of the day waiting to shoot a scene.
Because this is Star Wars, some of the talking heads include some familiar names to hardcore fans, such as David Prowse (the man in Darth Vader's suit and helmet) and Jeremy Bulloch (who played Boba Fett), but also much more unknown names such as Paul Blake (Greedo), Angus MacInnes (an X-Wing pilot) and more.
The documentary already played at the BFI London Film Festival, and The Playlist called it "an examination of how fame can change and haunt us." It certainly looks like a fascinating portrait of 10 actors who were part of the biggest movie in history, even if it was just a little part. Here's the official description from BFI:
When George Lucas began work on a mysterious project named Star Wars in North London back in 1976, no one could have predicted how it would go on to shape cinema as we know it, least of all the legions of on-screen extras. In this affectionate documentary, we meet ten of those bit performers who appeared, however fleetingly, in Lucas' box office behemoth. Rather than the standard 'making of' – the likes of which have been seen countless times before – Elstree 1976 paints an intimate portrait of these performers, examining how their brushes with Lucas shaped the paths of their lives. With a cast ranging from Darth Vader himself (or David Prowse as he's better known to his friends), to a performer whose character was cut entirely from the finished film, this is not so much a film about Star Wars as the story of a group of people united by one life-changing experience.
There's no release date for Elstreet 1976 just yet, but we'll do our best to keep you posted.