'Hocus Pocus 2': Sarah Jessica Parker Dismisses Sequel Rumors, Producer Wants To Make TV Movie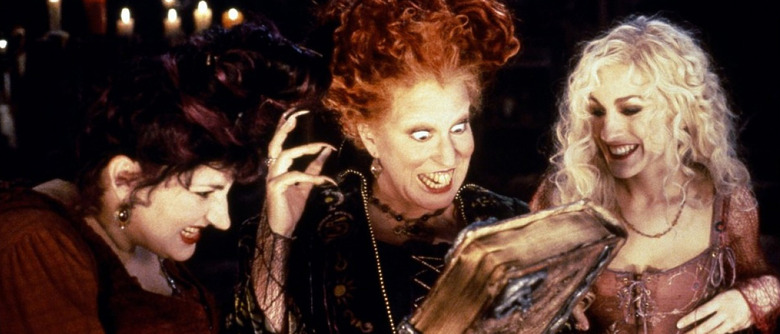 It's a tradition as reliable as jack-o'-lanterns and trick-or-treating: Every year around Halloween, nostalgic Gen Xers and Millennials revisit the 1993 comedy Hocus Pocus, and then get to wondering why no one's made a sequel yet. This year, Bette Midler even joined in on the conversation with a (facetious) explanation. As far as we know, though, Disney hasn't officially fired up the cauldron yet.
And just to drive that last point home, Sarah Jessica Parker has gone on the record to clear things up: No, as far as she knows, there's no Hocus Pocus 2 coming soon to a theater near you. But that doesn't preclude the possibility of its returning in another form, according to producer and co-writer David Kirschner. Get the latest comments on the Hocus Pocus sequel after the jump. 
For years, many of the people involved with the first Hocus Pocus have expressed hopes of making a sequel. Leads Midler, Parker, and Kathy Najimy have all said they're in, as has director Kenny Ortega. "I wouldn't mind doing a sequel," he told Hollywood Life this summer. "I think it'd be great to revisit it with the same women. The Sanderson Sisters deserve another opportunity to land in the middle of something and do it again. They're too much fun."
So far, however, there hasn't been much movement. And earlier this week, Midler revealed the "real" reason Disney isn't making a Hocus Pocus 2.
.@kathynajimy .@SJP Breaking news!! SEQUEL DELAYED!! @Disney having trouble finding a virgin! #HocusPocus pic.twitter.com/dYnJv7lyNQ

— bettemidler (@BetteMidler) October 26, 2015
Najimy offered a joking response, and then this more serious update on the state of the long-rumored sequel.
HP people. I wish o wish I could tell U yay or nay. Bt it's not up 2 moi
Tweet @DisneyPictures_ perhaps they can fulfill ur witches (wishes)

— Kathy Najimy (@kathynajimy) October 28, 2015
Meanwhile, Parker got frank with Vulture. "I think it's just on the World Wide Web," she said. "We've all been exchanging funny, not-reality-based messages to one another. [That's] as much as I know."
There have, however, been serious efforts in the past to make Hocus Pocus 2 happen. Speaking with Yahoo, Kirschner revealed that he tried to pitch a theatrical follow-up to Hocus Pocus a few years ago, only to get shot down by Disney. More recently, he said, he's been trying to get a Hocus Pocus follow-up off the ground as a Disney Channel original movie (a la Descendants or Teen Beach Movie). He hasn't heard back, so there's still a glimmer of hope there.
Especially considering Disney seems interested in keeping this franchise going one way or another. This year, a Hocus Pocus show hit the stage at Disney World, complete with tie-in merchandise so fans could literally wear their Hocus Pocus fandom on their sleeves. Hocus Pocus 2 may not be in the cards just yet, but it probably won't take a magic spell to get it going in the near future.