'Over Your Dead Body' Trailer: Takashi Miike Is Back To Freak You The F––k Out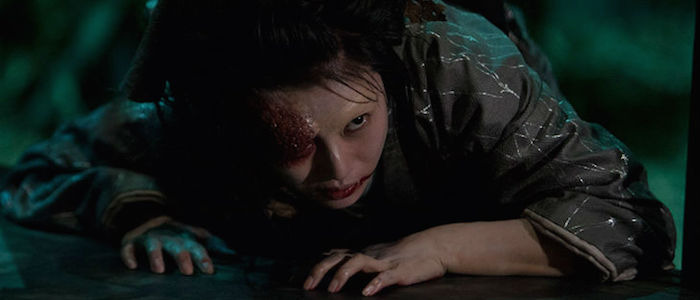 Takashi Miike tends to pump out two to three movies a year, rotating between action, horror, and exercises into total, depraved insanity without blinking. He is a mad man and his work veers from sublime to awful on a case-by-case basis. Then again, anyone who works as often as he does is allowed to have a stinker every now and again.
That brings us to the trailer for one of his newer movies (he's made four movies since its Japanese release in 2014), Over Your Dead Body. A return to the slowly paced, deeply creepy horror that made him an international sensation with Audition, the film isn't going to be for everyone. For Miike aficionados and for fans of genuinely unsettling horror, however, it's a strange little treat.
Watch the Over Your Dead Body trailer below.
If you watch the trailer below and don't feel like you understand what just happened, know that the movie won't be too much more helpful. The full movie is an exercise in atmosphere, following the actors and crew working on an elaborate stage show whose lives slowly begin to fall apart as the lines between reality and fiction blur. Bloody murder, weird ghosts, freaky dolls, and long, lingering, despairing shots of miserable, possibly insane, characters ensue. It's the kind of movie that sloooowly worms its way under your skin. Just when you reach peak frustration, it starts delivering the goods. You know whether or not that sounds like your thing.
Here's the official synopsis straight from Scream Factory, the boutique home video label that is giving the film a North American release:
A beautiful actress plays the protagonist in a new play based on a legendary ghost story. She pulls some strings to get her lover cast in the play, although he's a relatively unknown actor. With the cast in place, rehearsals for the play, about an abusive relationship and a grudge, begin. But off stage, some begin to develop their own obsessions. Trapped between the play and reality, they are horrified to find that a real grudge can cross the blurred line between reality and fantasy. Will love flourish? Or has it already turned hideously dark?
The Over Your Dead Body trailer arrives hot on the heels of the trailer for Miike's most recent film, Yakuza Apocalypse, which showcases his completely separate set of cinematic skills. There are some days where it feels like he's actually two filmmakers. Or maybe three. Anyway, Over Your Dead Body is many things (ghost story, murder mystery, tale of madness, behind-the-curtain drama, etc.), but so is Yakuza Apocalypse:
While you wait for your chance to see these movies for yourself, you can sit around and twiddle your thumbs and wonder which god you need to offer your prayers to keep them from remaking Audition.