Director Terry Gilliam Actually Likes 'Ant-Man'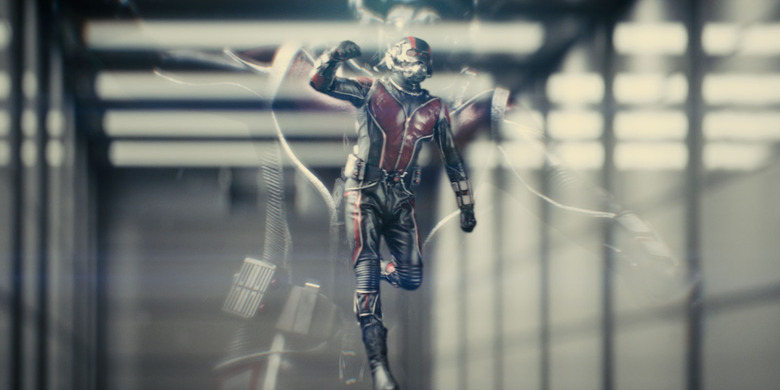 It's not surprising people like Ant-Man. It's a funny, cool, and clever superhero pic that relies more on the conventions of a heist movie than a superhero movie. Director Peyton Reed (Down with Love) also made a Marvel movie that doesn't feature a massive third act with extras running around and the hero fighting a bunch of CG, faceless bots. For a variety of reasons, Ant-Man is a breath of fresh air, so it isn't surprising when somebody likes the film. But it is surprising when that somebody is director Terry Gilliam (12 Monkeys, Time Bandits).
Gilliam discusses Ant-Man after the jump.
Despite the hilariously mistaken obituary Variety ran last month, Gilliam is alive and well, and like the rest of us, is still watching movies on airplanes. In a wonderful one-hour discussion with Sam Rubin available on LiveTalksLA, Gilliam actually had some nice things to say about the Marvel movie:
Strangely enough, I watched Ant-Man on the plane coming over here. Now, Ant-Man I quite liked, I think there's a lot of really good stuff in there. And technically, it's brilliant. But it's also predictable, ultimately. We know where it's gonna go, so the structure and the shape is all there. And okay, they play with it in various ways. But, that's my problem, I don't get the surprise I used to get, I want to go and be more surprised.
Gilliam has never been shy about the fact he's unsatisfied with the current state of the movie business. As the director struggles to get Don Quixote and other projects made, $200 million dollar superhero movies have become a priority for studios. The director says these movies are "sucking the pot out of the gold," leaving him and other directors in the dust. He'd probably be delighted to see comic book movies go the way of the western, as Steven Spielberg has predicted. Here's Gilliam again:
I was thinking about this the other day, I moan about this, but when I was younger it was westerns [that were popular]. But I even thought within a western, there's a formula there, but there was still more places to play, there was more humanity — real humanity — as opposed to an artificial, inflated, superhero [movie].
To be fair, Gilliam's words can apply to most genres. Most romantic comedies, action movies, and dramas don't depart from formula; it's not just superhero movies. The problem is we'll be seeing so much of this formula in the next few years that seeing a hero save the day again and again might grow tiring. But if we keep seeing superhero movies as distinct and different as Ant-Man and James Gunn's The Guardians of the Galaxy, then the genre will probably stay alive and well.
A fun fact from that chat with Gilliam: he turned down directing The Truman Show, Mr. & Mrs. Smith, and, "because it didn't have the gods," Troy.