'Hello, My Name Is Doris' Trailer: Sally Field Follows Her Dreams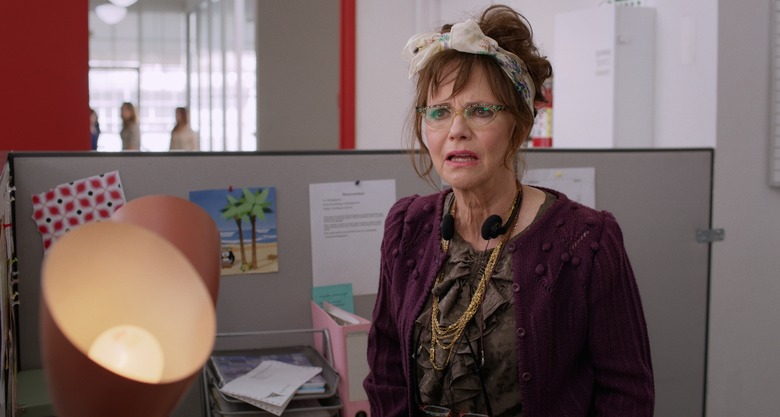 Hello, My Name is Doris premiered at this year's South by Southwest. The film, co-written and directed by Michael Showalter (Wet Hot American Summer), was acquired by Roadside Attractions after its premiere for the price of $1.75 million, the biggest purchase made at the festival this year. The comedy, starring Sally Field (Lincoln), also won the audience award for headliners. Watch the Hello, My Name is Doris trailer after the jump.
Field plays an older woman convinced to follow her dreams, and one of her dreams is to be with John (Max Greenfield), a much, much younger man. She begins hanging out with kids over half her age, going to concerts, and creating a fake Facebook account. This is hardly Harold and Maude, but, like Hal Ashby's film, there's a mix of laughs and sadness.
The trailer has a slightly awkward mix of comedy and drama, but it's hard to make those two tones gel in a two-minute trailer. Field definitely looks great, though. One of her finest performances is in Soapdish, a great combination of humor and sadness. It's nice to see her back in comedy. It's also great to see her in a starring role.
Hello, My Name is Doris also stars Natasha Lyonne (Orange is the New Black), Kumail Nanjiani (Silicon Valley) and Beth Behrs (2 Broke Girls)
Watch the first Hello, My Name is Doris trailer (courtesy of Yahoo! Movies):
It's refreshing to see a movie about this kind of subject matter that isn't cracking too many jokes about the protagonist's age. Two recent Robert De Niro movies, Grudge Match and Last Vegas, rely so heavily on joking about his generation. "They don't even know what Twitter is! Look at how old they are!" jokes become really, really tiring in these sorts of movies, but Hello, My Name is Doris doesn't look like that kind of film.
Here's the official plot synopsis from SXSW:
After the death of her mother, Doris, an isolated 60-year-old woman, becomes motivated by a self-help seminar to romantically pursue a younger coworker at a hip Brooklyn clothing company. As she finds ways to connect with John (going to an electronica concert, hanging out in hipster coffee shops..), her authentic retro style thrusts her into the spotlight of the local hipster social scene and she soon gets caught up in the world of chocolate bar haikus and rooftop knitting clubs. But her other relationships suffer as a result of her new found popularity and Doris has to realize that what she wants isn't necessarily what she needs.