Watch Spike Lee's Motion Capture Movie 'Livin' Da Dream'; 'Chi-Raq' Gets Release Date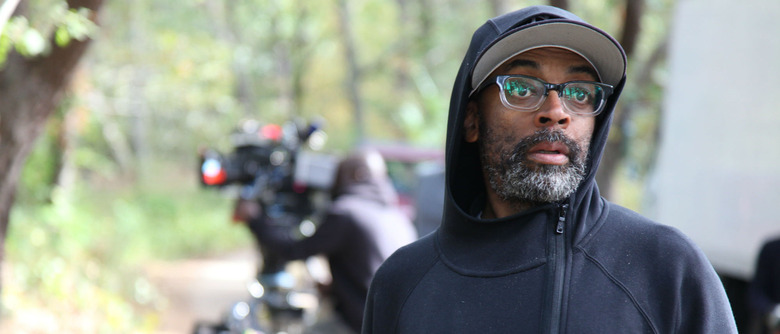 Spike Lee's Kickstarter film, Da Sweet Blood of Jesus, came out earlier this year. The director behind Do the Right Thing and The 25th Hour caused some controversy — not the first time in his career — when he started the campaign for his "vampire" movie, and the actual film itself was just as divisive. But it's not the only movie we'll see from Lee in 2015. There are three Spike Lee movies this year: Da Sweet Blood of Jesus, plus Livin' Da Dream and Chi-raq.
Learn more after the jump.
Lee is a diehard New York Knicks fan. That fact should help lessen the surprise of this news: the director has made a feature-length motion-capture movie called Livin' Da Dream for the NBA 2K16 video game. The film expands on the "MyCareer" mode, and you follow a character nicknamed "Frequency Vibrations." In the intro, Lee had this to say:
This year NBA 2K16 will take a new approach to your "MyCareer" story. Expand your world to something bigger and better than ever before. There's a lot more to being a great baller than what you see on the court: high school, college, choosing an agent, getting drafted, developing a personal brand, and family. The pressure is very real for you and everyone around you.
I've yet to watch the movie myself, but based on the parts I've seen, it's an actual story with real conflicts and arcs. These aren't just cut scenes. If you ever dreamed of seeing a motion-capture movie from Spike Lee made for a video game, then today's your lucky day, because you can watch it now below (via The Film Stage).
As for Lee's other upcoming film, Amazon Studios has announced a December 4th release for Chi-raq. Roadside Attractions and Lionsgate will first handle the project's theatrical release, before Amazon releases it on their streaming service. The film — which is about gang violence and clashes with the police — is inspired by the classical Greek comedy "Lysistrata." Deadline says the timeliness of the story is one of the reasons why it's getting released five weeks from now.
Chi-raq stars Samuel L. Jackson (The Hateful Eight), Teyonah Parris (Dear White People), John Cusack (Love & Mercy), Wesley Snipes (Brooklyn's Finest), Nick Cannon (America's Got Talent), Angela Bassett (American Horror Story), and Jennifer Hudson (Dream Girls).
It's been a few years since Lee has had a major hit, both financially and critically. Hopefully Chi-raq is more successful than his Oldboy remake or Miracle at St. Anna.