Jennifer Jason Leigh Enters David Lynch's 'Twin Peaks'; Naomi Watts Circling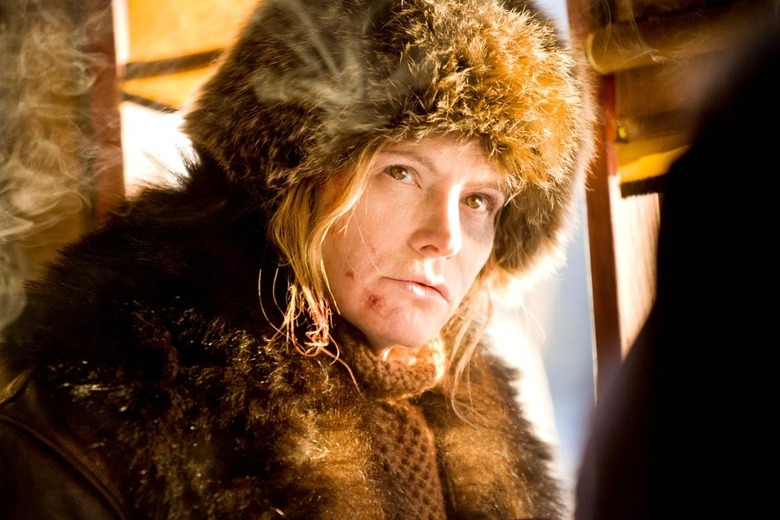 Twin Peaks just keeps getting more crowded. Jennifer Jason Leigh will appear in Showtime's David Lynch revival, along with returning stars Kyle MacLachlan and Sheryl Lee, and new stars Balthazar Getty, Amanda Seyfried, Peter Sarsgaard, and Robert Knepper. In addition, there's word Lynch wants to bring on Mulholland Drive star Naomi Watts. 
Deadline got the scoop on the Twin Peaks Jennifer Jason Leigh news. Showtime hasn't publicly announced Leigh's casting, but her involvement was unofficially revealed by paparazzi photos. The snapshots seem to show her filming a nighttime scene with MacLachlan in the Mojave desert. Lee was also spotted on set.
Lynch is directing the entire new season of Twin Peaks, which will come in somewhere between ten and 18 episodes. He also wrote the script, with original Twin Peaks co-creator Mark Frost. Details on the Twin Peaks limited series, including basic plot info, remain shrouded in mystery. At least until someone decodes what this eerie teaser is all about:
MacLachlan is the only original Twin Peaks star publicly confirmed to reprise his role, but Showtime has promised more familiar faces. "I think you should be optimistic that the people that you want will be there, and then there will be some surprises in addition," he teased. Sherilyn Fenn, Dana Ashbrook, David Patrick Kelly, and Richard Beymer are among those rumored to return.
We know even less about whom the new actors are playing. They may not necessarily be new characters, though — an earlier report suggested Getty might take over an existing role. Seyfried apparently has a "pivotal" part, and Sarsgaard and Knepper are both in recurring roles.
Getty, as Lynch fans are aware, worked with the filmmaker in 1997's Lost Highway. And he isn't the only actor Lynch wants to reunite with. Deadline's sources indicate he's trying to woo Watts, who had a big career breakthrough in 2001's Mulholland Drive and re-teamed with him in 2006's Lost Highway.
Leigh was seen earlier this year in the indies Welcome to Me and Alex of Venice. Coming out next from her are Quentin Tarantino's The Hateful Eight (in which she already looks like the scene-stealer in a cast full of larger-than-life performances) and Charlie Kaufman's Anomalisa (which marks her second time working with him, after 2008's Synecdoche, New York).
The Twin Peaks is likely to air sometime in 2016, which marks the 25th anniversary of the Season 2 finale.