J.J. Abrams Answers Burning Questions About 'The Force Awakens,' 'Lost' And 'Cloverfield 2'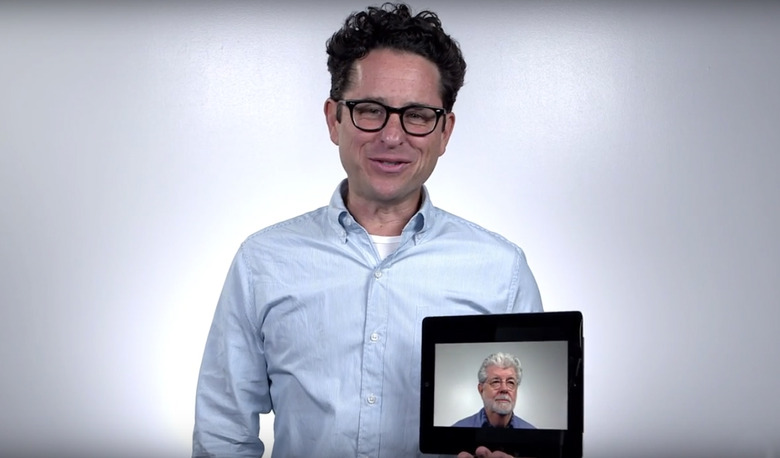 In a little over a month, the publicity machine is going to be in full swing as we lead up to the release of Star Wars: The Force Awakens. You can bet that the entire cast and director J.J. Abrams will be making the rounds to morning news programs, late night talk shows, and pretty much everywhere else to help promote the movie that simply doesn't need anymore promotion. But in the meantime, Abrams has gotten a round of questions from some movers and shakers in all sorts of entertainment, and they want answers.
Cloverfield star T.J. Miller, Girls creator Lena Dunham, Suicide Squad star Jared Leto, Netflix's content acquisitions chief Ted Sarandos, even George Lucas himself and many more have tons of burning questions about The Force Awakens, Lost and just life in general. Abrams gives some pretty great answers for your entertainment.
Here's J.J. Abrams answering a slew of questions from celebrities and more at Vanity Fair:
Miller makes a valid point about Cloverfield 2. After directing new Star Trek and Star Wars movies, I think the time is now for Abrams to get a sequel to the found footage monster movie together. It was buzzed about for a few years, but then when Abrams took over big franchises, everyone stopped asking about it.
Smart move by Vanity Fair to get Abrams and Lucas to chat, potentially tricking him into revealing some The Force Awakens details that we don't know yet about Darth Vader's potential grandchildren. But unfortunately, Abrams is a smooth operator, and not even the creator of Star Wars can pull anything out of him. I have a feeling that even if Abrams was interrogated by Darth Vader himself, he would not budge.
But the best part is how Abrams just silently moves on from the question about the Lost smoke monster, not to mention how he points out several times that any decisions made about the series after the pilot did not involve him. We should probably stop asking him about Lost now, folks.