Look Into The Eyes Of David Tenant's Purple Man On This New 'Jessica Jones' Poster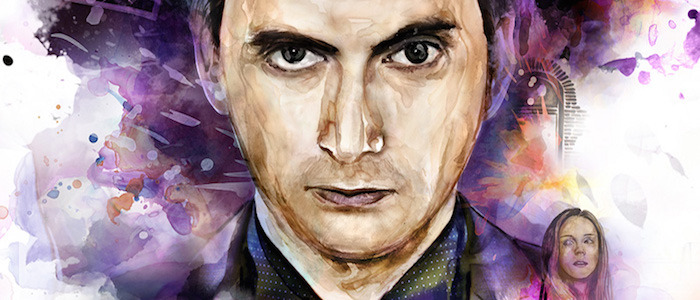 There are many reasons you should have Marvel's upcoming Netflix series Jessica Jones on your radar, but one of them is the inclusion of David Tennant as Zebediah Kilgrave, a.k.a. the Purple Man. Although not as famous as other comic book villains, he's one the creepiest foes to ever haunt the pages of the Marvel Universe, using his ability to make anyone obey his commands to frequently unsettling effect. He won't be the first villain the former Doctor Who star has played, but he could be the nastiest one yet.
A new character poster and a new image featuring Tennant as the character have arrived and they tease a version of the character who has been slightly tweaked from his comic book counterpart. Check out the new Jessica Jones character poster (and more!) after the jump.
Originally introduced as a Daredevil villain in 1964 and used to tremendous effect in Mark Waid and Chris Samnee's recently completed (and already legendary) run with the character, "the Purple Man" earned his name in the comic book world by literally having purple skin. Not that his victims would notice – they would already be under his sway before they could even care that he looked like that. That detail has been seemingly scrubbed away for the TV version – unless he can control his appearance and will show off his original look at some point in the show's 13-episode run – but the name has stuck and there are elements of his wardrobe to back it up.
Since Vincent D'Onofrio's Walter Fisk was one of the strongest elements of Daredevil's first season, we hope Tennant's Killgrave can deliver the goods. If the big screen villains of the Marvel Cinematic Universe can be so consistently disappointing, maybe the villains of the Netflix corner of the MCU can consistently match the heroes. After that genuinely exciting new trailer, we're very interested to see him have a showdown with Krysten Ritter's superhero-turned-P.I.
Anyway, here's one of those new-fangled motion posters that animates a poster ever-so-slightly. You can find regular static poster below:
Although he's not credited on the poster, the art looks very much like that of acclaimed comic book artist David Mack. That would make sense, as Mack provided the covers for Brian Michael Bendis and Mark Gaydos' Alias, the Marvel series from which Jessica Jones is taking much of its inspiration. Either they commissioned Mack to create this thing (and we'll update with confirmation if so) or they really borrowed/ripped-off his style. Here's one of his covers for the sake of comparison: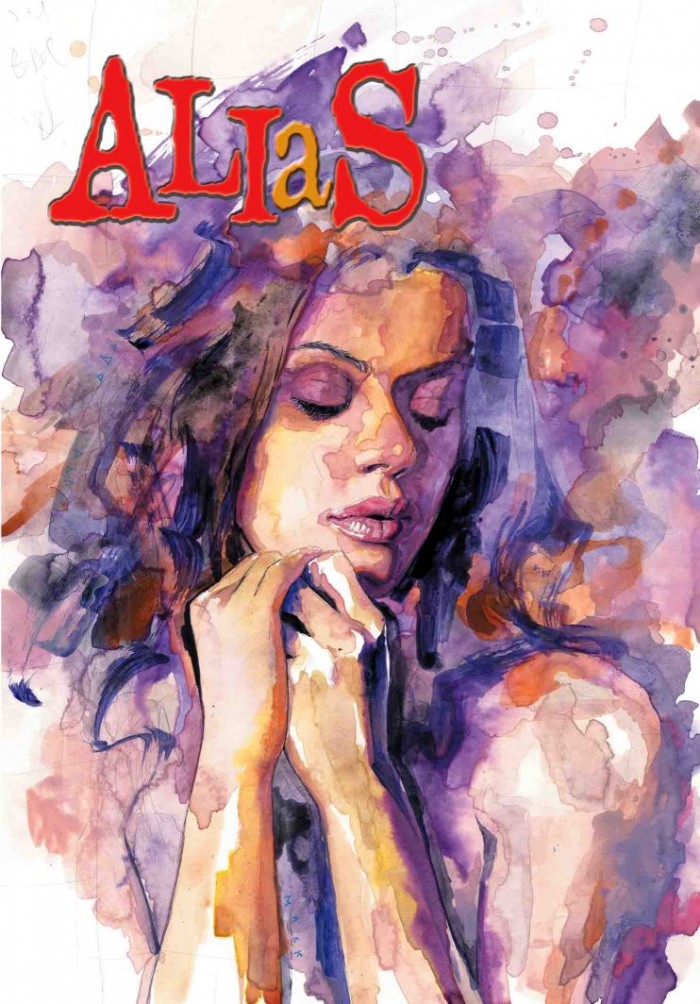 Netflix and Marvel also released this new plot synopsis, which works Killgrave into the mix:
Haunted by a traumatic past, Jessica Jones uses her gifts as a private eye to find her tormentor before he can harm anyone else in Hell's Kitchen.
For the record, here's the original synopsis:
After a tragic ending to her short-lived super hero stint, Jessica Jones is rebuilding her personal life and career as a detective who gets pulled into cases involving people with extraordinary abilities in New York City.
While we're here and talking about new images of David Tennant as a Marvel villain, this new image has also arrived online, although it's unclear if it's a proper still from the series or not. Go ahead and prep your questions: Where the heck are they? Why does Killgrave have a microphone?

All 13 episodes of Jessica Jones will arrive on Netflix on November 20, 2015. Along with Ritter and Tennant, the series stars Mike Colter, Carrie-Ann Moss, and Rachael Taylor.