'Thor: Ragnarok' Will Be A Buddy Movie (With Fights)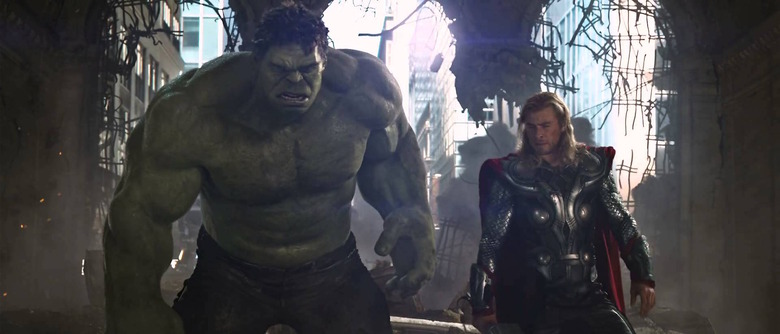 Whether Thor: Ragnarok will explore the relationship between Bruce Banner and the Hulk remains to be seen, but it'll definitely dig into the friendship between Bruce Banner and Thor (played by Chris Hemsworth). Mark Ruffalo described the upcoming Marvel movie as "a buddy picture" of sorts, albeit one featuring some superpowered showdowns. Read his Thor Ragnarok buddy movie comments after the jump. 
Ruffalo touched upon Thor: Ragnarok while doing the press rounds for his new movie Spotlight (which is really, really good, by the way; everyone should go see it. Anyway, back to the Marvel stuff!). "I don't really know that much about it, but I think it's going to be a buddy picture with Thor and Bruce Banner," he told the New York Daily News.
Of course, every buddy movie involves a moment (or many) in which the buddies find themselves at odds with each other. Thor: Ragnarok will be no exception, according to Ruffalo. "I think they'll probably fight," he said. "There's no doubt, everyone wants us to fight at one point." It's worth pointing out that they already have, in the first Avengers.
And even when they're fighting side by side, it seems Hulk can't resist getting in a punch.
Indeed, for a team of legendary do-gooders, it kind of seems like the Avengers are fighting each other all the damn time. Avengers also had Iron Man, Captain America, and Thor going mano a mano a mano, Age of Ultron featured Hulk battling Iron Man, and Ant-Man pit Ant-Man against Falcon. Heck, the whole premise of Civil War is Avenger-on-Avenger action. (The fighting kind, not the sex kind. As far as we know.)
As for what Thor: Ragnarok is actually about, Ruffalo isn't saying much. "I know that it's about (the Norse legends of) 'Ragnarok,' or the end times in the Marvel universe as it pertains to Thor — which seems to be quite the theme these days in movies," he said. There have been rumors that the film could send Thor and Hulk on a cosmic road trip — and Ruffalo's "buddy picture" comment might back that up – but that part is so far unconfirmed.
Whatever Marvel ends up doing with these two, it should be a fun ride. Just look at these adorable bros, adorably bro-ing out at Comic-Con:

Thor: Ragnarok is being directed by Taika Waititi (What We Do in the Shadows). It opens November 2, 2017. Tom Hiddleston and Jaimie Alexander also star.