Netflix's 'Beasts Of No Nation' Watched By 3 Million Subscribers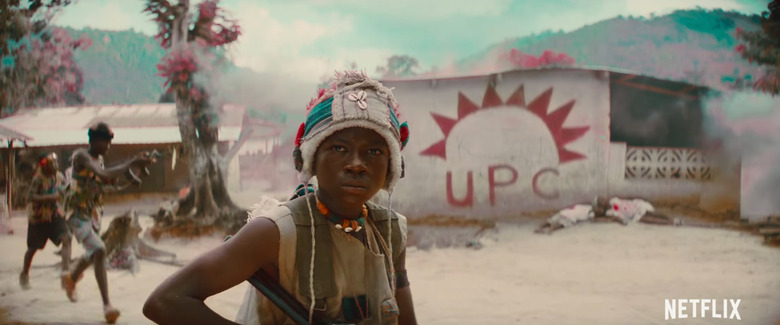 Beasts of No Nation isn't the failure it's being written off as. Last weekend the film earned only $50,699, in 31 theaters, and the theater average for Beasts of No Nation was $1,635. For an average indie that cost a few million dollars, that's a disastrous number. But writer/director Cary Fukanaga's (True Detective) film isn't your average indie. And, make no mistake, the film has reached an audience.
Learn more after the jump.
In an unprecedented move, Netflix released the viewership numbers for Beasts of No Nation. The rental service is notorious for not publicly announcing how well or poor their original content performs, but after some of the negativity surrounding the film's box-office numbers, their decision makes sense: they don't want people thinking their first movie is a failure. Out of 40 million subscribers, three million people watched — or at least hit play to watch – Beasts of No Nation. Not only have millions of people seen the movie, but the producers have already made a profit. 
Netflix's head of content acquisition, Ted Sarandos, spoke with Deadline to clear the air after the film's box-office performance.
It is worth sharing that this movie, in North America alone, has over 3 million views already. Which I think is a bigger audience than any specialty film could ever hope for in its first two weeks of release, and maybe for its entire run. And we're just starting. We are just thrilled with the total audience reach of this film, not just in North America but the world. In the first week of release, Beasts Of No Nation was the most watched movie on Netflix, in every country we operate in. Even Japan, and I'm only calling out Japan because most specialty films don't do very much of their box office outside the U.S. at all, let alone in Japan. Studios have trouble opening those movies in Japan.
Some theater chains and studios probably reveled in the supposed failure of Beasts of No Nation, but according to Sarandos, the film lived up to Netflix's expectations.
We're not trying hard to turn around any perception. We said we would deliver the film a big audience, and we have been doing that. The interesting thing, in the early coverage, the success and failure of limited-release films is measured in a couple of thousand people. Here, we're talking about an audience of over 3 million, and just in North America. So we have brought and we will continue to bring a very large audience to this film — and not just in North America but around the world, and that is a unique thing we brought to this release strategy. There's only so much we can do about what happens in the theater. We can make it available and try to book it, but if theater owners don't want to book it, they won't book it.
Sarandos added that "it's a very sexy thing to talk about whether there's a feud, but I think what's really happening here is that we're offering consumers a lot of choices they didn't have just a few years ago." Netflix isn't trying to replace movie theaters; it's just providing a new way to consume movies.
They're making studio-sized movies, so to some people, that's cause for concern. Their next slate of feature films include The Ridiculous Six (watch that trailer here...), Crouching Tiger, Hidden Dragon: The Green Legend, and Pee-wee's Big Holiday. War Machine, directed by David Michôd (The Rover) and starring Brad Pitt (Fury), will also start filming soon.
Beats of No Nation, which is more cinematic than most movies in theaters right now, is now available on Netflix.