Rooney Mara And Nicholas Hoult Making 'The Discovery', From 'The One I Love' Director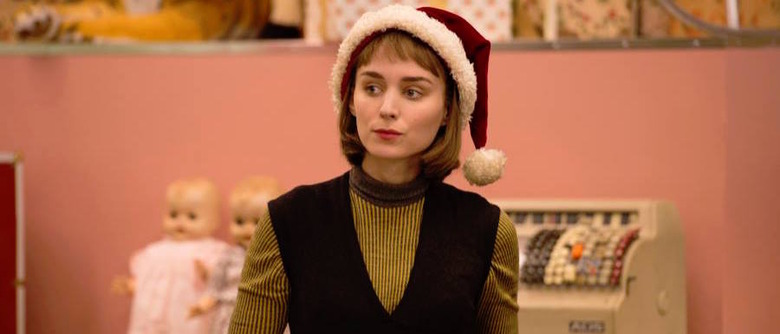 The One I Love director Charlie McDowell is preparing to mount another twisted romance. His new film The Discovery is set in a world where the existence of the afterlife has been scientifically proven. Nicholas Hoult and Rooney Mara will play the central couple. Read all about the Rooney Mara The Discovery movie after the jump. The Discovery is scripted by McDowell and Justin Lader, who also wrote The One I Love together. Billed as a sci-fi love story, The Discovery follows the son (Hoult) of the man who discovered the afterlife. He falls for a woman (Mara) with a tragic past. Shooting is scheduled to begin in January in Rhode Island.
Mara is coming off of Joe Wright's epic fairy tale flop Pan, and will be back onscreen next month opposite Cate Blanchett in Todd Haynes' Carol. While it remains to be seen how Carol will fare at the box office, Mara can at least rest assured critics like that one. Carol has already picked up some great reviews on the festival circuit and won Mara a prize at Cannes.
Hoult had two films out this summer, Mad Max: Fury Road and the Gillian Flynn adaptation Dark Places. The latter barely made any waves at all, while the former has been hailed as one of the best films of the year (including by us). Coming up next from him are the American Psycho-esque thriller Kill Your Friends, the Drake Doremus sci-fi romance Equals, and X-Men: Apocalypse.
McDowell earned some positive notice with The One I Love, which marked his feature directorial debut. The film starred Elisabeth Moss and Mark Duplass as a couple who head to a country cabin for a weekend, only to find themselves in a bizarre situation that makes them question everything about themselves and each other.
It was a low-key indie that examined painful truths through a distorted lens. A good sense of humor and excellent performances made it go down much easier than it might have otherwise. Mara, who is McDowell's girlfriend, actually had a small role in The One I Love, albeit off camera: Mara was the film's costume designer, credited under the pseudonym Bree Daniel.