Tom Cruise Wants To Go To The Moon With 'Luna Park'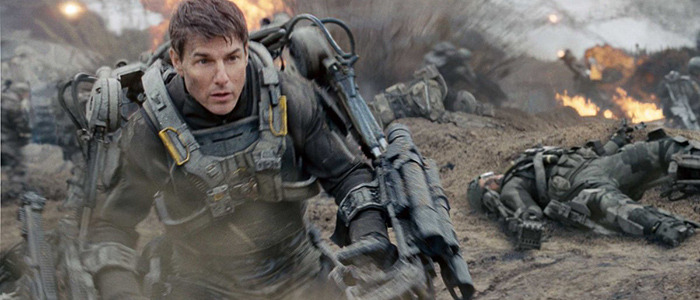 When Tom Cruise finds a director he likes, he sticks to them like glue. The actor has collaborated with some of the finest filmmakers in his career: Stanley Kubrick (Eyes Wide Shut), Paul Thomas Anderson (Magnolia), Steven Spielberg (Minority Report), Cameron Crowe (Jerry Maguire), and Michael Mann (Collateral), to name a few. One of his most rewarding collaborations from the past few years was with Doug Liman (Swingers, The Bourne Identity). Although Edge of Tomorrow didn't perform gangbusters at the box-office, it's an exceptional action movie that was loved by most. The actor and director are about to work together for a third time on Luna Park, a sci-fi thriller. Learn more after the jump.
Cruise and Liman recently wrapped shooting Mena, an '80s drug thriller for Universal. Next, after Jack Reacher: Never Go Back is in the can and before Mission: Impossible 6 starts shooting, the actor will make time for Luna Park. Four years ago the space heist movie was a go project. After the budget ballooned past $100 million, the co-financier Skydance and Paramount pulled the plug on the project. Liman's films tend to go over schedule and over budget, so it's understandable the studio didn't want to take the risk. But now the project is back on, and after some rumors and speculation, it's been confirmed Tom Cruise is starring in Luna Park.
The director was initially meeting with Andrew Garfield (99 Homes), Chris Pine (Star Trek) and Emile Hirsch (Into the Wild) for the male roles and Rosario Dawson (Daredevil), Megan Fox (Jennifer's Body), Rachel McAdams (True Detective), Eva Mendes (The Place Beyond the Pines), Zoe Saldana (Guardians of the Galaxy), and Olivia Wilde (Meadowland) for the female roles. That was years ago, so we probably shouldn't expect to hear a lot of these names when more casting news drops. There's no word yet on who will star alongside Cruise, but if Liman can get Emily Blunt to join this Edge of Tomorrow reunion, that would only make this project all the more enticing.
Luna Park's script has gone through several iterations, including a draft from Simon Kinberg (X-Men: Apocalypse). Jason Fuchs is now taking a pass on the script. The screenwriter is coming off of Pan, a significant bomb for Warner Bros. From what I've heard, the script and the movie director Joe Wright shot was quite different from what ended up on screen, so even if you loathed Pan, Fuchs doesn't deserve all the blame. Fuchs is also one of the writers working on Wonder Woman.
According to JoBlo, the plan is for Luna Park to begin shooting early next year. Liman's film is about a group of renegade employees who travel to the moon to steal an energy source, and it's fair to assume Cruise will play the leader of the pack.