'The Wannabe' Trailer: Vincent Piazza And Patricia Arquette Have "Gotti" Get Out Of This Place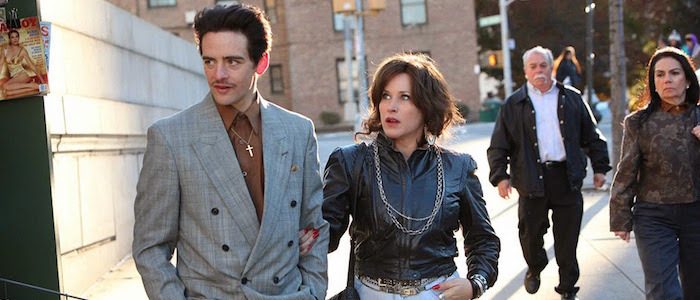 All modern Mafia movies live in the shadow of Goodfellas, so being able to pull Martin Scorsese's name out of your back pocket is very useful when you're trying to see your new mob drama. The masterful director was only an executive producer on The Wannabe, but seeing his name pop up on screen can't help but lend this trailer a pinch of two of legitimacy. Okay, movie: you have our attention. Now what?
The Wannabe is a fictionalized take on the story of Thomas and Rosemarie Uva, starring Vincent Piazza and Patricia Arquette as the doomed couple who got way in over their heads with the New York City criminal underworld during the 1992 trial of John Gotti. Slick back your hair, put on your best suit and check out the the Wannabe trailer below.The Wannabe marks the second time always-busy actor Nick Sandow (best know for playing Joe Caputo on Orange Is the New Black) has stepped behind the camera, and his first feature screenplay credit. In addition to having Scorsese on his team, his cast features plenty of cinematic gangster vets, including Michael Imperioli of The Sopranos and Domenick Lombardozzi of Boardwalk Empire.
Despite its credentials, the film didn't make much of a splash when it premiered at the Tribeca Film Festival earlier this year, vanishing from sight until now. After watching the trailer, it's easy to see why. While this story is certainly interesting, there's little in this preview that we haven't seen before. Tales of desperate criminals getting in over their heads are a dime-a-dozen and the made-for-TV aesthetic on display in this trailer doesn't do much to grab our attention.
Plus, the exact same story was told in last year's Rob the Mob, which cast Michael Pitt and and Nina Arianda as Thomas and Rosemarie Uva. It also went under the radar, but its trailer has a bit more panache:
Here is Entertainment One's official synopsis for The Wannabe:
Obsessed with mob culture, and desperate to fit in, Thomas sets out to fix the 1992 trial of John Gotti. He believes if the plan is executed, it will put him at the center of all that he idolizes. The plot is foiled, setting off events worthy of mob lore. The Wannabe intertwines real people and true events, past and present, with fantasy.
The Wannabe will see a simultaneous limited theatrical release and VOD roll-out on December 4, 2015.