Go Behind The Scenes Of 'The Revenant' With These Gorgeous Photos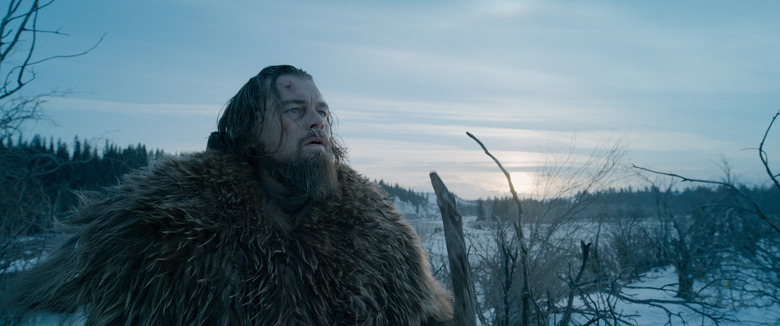 Whenever I see the trailer for Alejandro G. Iñárritu's The Revenant play in a theater, everyone goes silent. The intense mood and images just shut everybody up. You can feel the cold and harsh conditions in that footage. Cinematographer Emmanuel Lubezki (Birdman) used no electrical lighting, only natural lighting. Throughout principal photography – which went over schedule and over budget — Lubezki was sharing some beautiful photos from the locations on his Instagram account (via Indiewire).
Take a behind-the-scenes look at The Revenant after the jump.
Iñárritu's rumored two-and-a-half-hour-long epic looks like it'll benefit from shooting on real locations. The Revenant was filmed in British Columbia and Alberta, and it would take so long for the cast and crew to get to those locations that they'd only have so much time to get a scene done once the cameras started rolling.
Based on these behind-the-scenes photographs from Lubezki, it was worth the trouble. You can't make this stuff on a soundstage.
Also, an interesting side note: the writer of the novel, Michael Punke, isn't allowed to do press for the film, because he's the Deputy United States Trade Representative and U.S. Ambassador and Permanent Representative to the World Trade Organization (WTO) in Geneva, Switzerland. The State Department will not permit him to do publicity.
Faces Of R # 1 A photo posted by @chivexp on Oct 23, 2015 at 12:06pm PDT
Faces Of R # 4 A photo posted by @chivexp on Oct 21, 2015 at 10:41am PDT
Faces Of R # 3 A photo posted by @chivexp on Oct 19, 2015 at 9:00am PDT
A photo posted by @chivexp on Aug 23, 2015 at 2:15pm PDT
Swirling eddy in the Kootenai River, MT. A photo posted by @chivexp on Jul 20, 2015 at 10:54pm PDT
A photo posted by @chivexp on Jan 31, 2015 at 3:16pm PST
The Revenant opens December 25, 2015.
Inspired by true events, THE REVENANT is an immersive and visceral cinematic experience capturing one man's epic adventure of survival and the extraordinary power of the human spirit. In an expedition of the uncharted American wilderness, legendary explorer Hugh Glass (Leonardo DiCaprio) is brutally attacked by a bear and left for dead by members of his own hunting team. In a quest to survive, Glass endures unimaginable grief as well as the betrayal of his confidant John Fitzgerald (Tom Hardy). Guided by sheer will and the love of his family, Glass must navigate a vicious winter in a relentless pursuit to live and find redemption. THE REVENANT is directed and co-written by renowned filmmaker, Academy Award® winner Alejandro G. Iñárritu (Birdman, Babel).