HBO Cancels 'The Brink' (After Already Renewing It)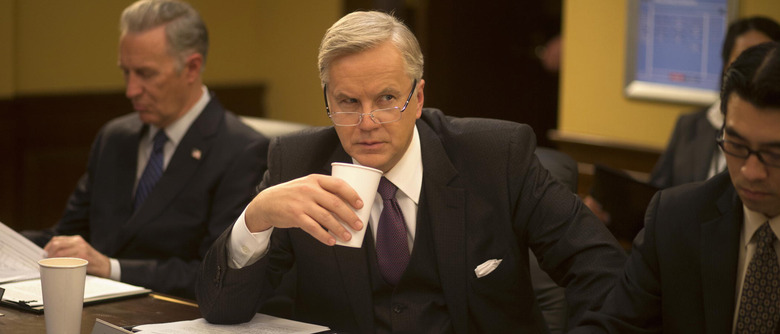 HBO has cancelled The Brink, the dark geopolitical satire starring Tim Robbins and Jack Black, after one season. Which isn't too shocking at first glance, given that the series never garnered much buzz and earned only modest ratings. What makes it weird is that the news comes after HBO already renewed The Brink for Season 2, way back in July. More about The Brink cancellation after the jump.
The premium cable network announced The Brink cancellation in a statement:
After evaluating our schedule and our programming needs, we unfortunately decided we cannot give The Brink the attention it deserves for a second season. We are proud of the first season and wish everyone involved in this show the very best.
The Brink followed three very different men who get caught up in a geopolitical crisis: U.S. Secretary of State Walter Larson (Robbins), lowly Foreign Service officer Alex Talbot (Black), and Navy fighter pilot Zeke Tilson (Pablo Schreiber, currently best known as Orange Is the New Black's Pornstache). Together, they engage in a desperate struggle to stop World War III.
HBO renewed The Brink for a second season in July, about halfway through its first season. While its ratings were decent, not great, its reviews were mixed. In contrast, Girls and Veep aren't exactly setting Nielsen boxes on fire, but they're critical darlings that inspire think pieces and gifs, attract devoted followers, and win statues.
Still, you'd think HBO would have noticed by the time it renewed The Brink that the show wasn't getting a ton of attention. And they still decided it was worth renewing anyway. So it's unclear what's changed in the past four months.
Ballers, which premiered with The Brink earlier this year, is still expected to bounce back for Season 2. And it probably still will, because its numbers were better than The Brink's. Still, we'd imagine every HBO cast and crew member just got really nervous all of a sudden. As TV critic Alan Sepinwall points out, this is madness. Madness, I tell you!