'Paddington 2' Is Happening: More Marmalade, Please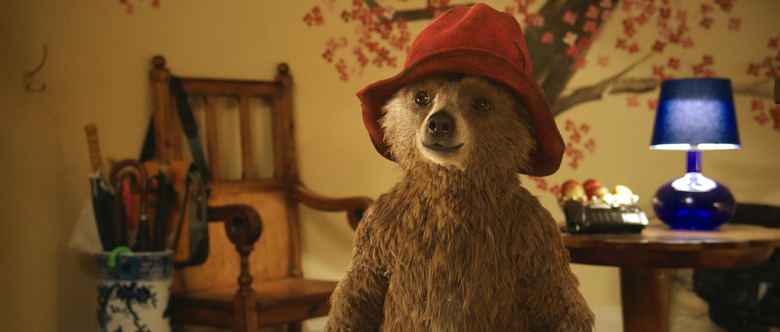 Paddington is one of the year's nicest surprises. Adapted from Michael Bond's books, the film is sweet, magical, and just all around pleasant. It was written and filmed by The Mighty Boosh director Paul King, so it's really not that shocking how delightful the movie is. Audiences embraced Paddington earlier this year, and luckily for us, a Paddington 2 is happening.
Read more about the sequel after the jump.
Deadline broke the news that Paul King will return to the director's chair for the followup. Producer David Heyman (Gravity, Harry Potter) and the financier-distributor, StudioCanal, have been wanting to lock King down for the sequel since earlier this year. And why wouldn't they? The film, which cost a reported $55 million, earned over $259 million worldwide and scored a 98% on Rotten Tomatoes. It wasn't a huge hit in the States, but after home video, it's fair to assume more people will turn out for the sequel.
Paddington is a kids' movie that doesn't condescend to its audience. Germain actually wrote a lengthy review of the film, touching on the many aspects that make it a great movie. Here's an excerpt:
By making the audience believe this world is totally fine with a bear who talks, it instantly sets the table for everything else. It's fun, it's a little irreverent, but it takes itself very seriously. There's no ill will here. And there's no awkwardness created by confused or evil human beings. Everyone is fine with a walking and talking bear, so the audience can be, too.
The tone and world-building is perfectly handled. King just did an undeniably excellent job on the film. The director is going to work with Simon Farnaby on the story, who acted in Paddington and the director's first film, Bunny and the Bull. There's no release date yet. Heyman and the studio want to give the writers enough time to get the sequel right, because the hope is make Paddington a long-running franchise.
Read a synopsis of the first film:
Paddington has grown up deep in the Peruvian jungle with his Aunt Lucy who, inspired by a chance encounter with an English explorer, has raised her nephew to dream of an exciting life in London. When an earthquake destroys their home, Aunt Lucy decides to smuggle her young nephew on board a boat bound for England, in search of a better life. Arriving alone at Paddington Station, Paddington soon finds that city life is not all he had imagined – until he meets the kindly Brown family, who find him with a label tied around his neck which reads 'Please look after this bear. Thank you.' They offer him a temporary home whilst he searches for the explorer who impressed Aunt Lucy all those years before.